In a very large skillet or wok, brown the ground beef with the garlic and a little salt and pepper. The original recipe came from a little cookbook that my friend, Nancy, found in the supermarket checkout. I wanted to create a flavor similar to my Grandma's cabbage rolls, which have a creamy sauce rather than a tomato sauce. Add the mushrooms and cook until the cabbage and mushrooms are very soft and start to brown slightly.
There are so many variations of Crack Slaw that I couldn't decide which one to try so I just took the ingredients that appealed to me and came up with my own version.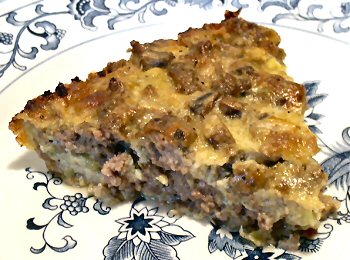 Add the broth and cream; bring to boil and cook on high, stirring occasionally, until reduced and thickened.
This whole dish, minus the condiments and seasonings, only cost me $3.50 to make because I bought marked down hamburger and got good prices on the cabbage, mushrooms, and green onions. I suspect that at least one ingredient was left out of the printed recipe because there was no liquid called for other than the tiny bit in the canned tomatoes. This made a huge amount of food and I could only fit about two thirds of it in the serving bowl in the photo. The celery took the longest to cook so I think I might cook it along with the ground beef and onion to speed up the cooking time.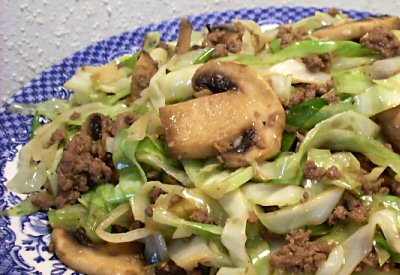 Although I marked this soup as suitable for induction, I recommend sticking with a small serving because of the tomatoes.