I've changed the cooking method a bit so that only one skillet is needed and also to keep the chicken from overcooking. Add the peppers and onions and cook until just tender, adding the garlic during the last minute or so; season lightly with salt and pepper.
Kent made the cheese sauce with the chicken still in the pan and I thought it would be easier to do with the chicken out of the way. For the taco seasoning, I like to make my own (no sugar added; there are plenty of taco seasoning Zaar recipes to choose from, if you would like to make your own.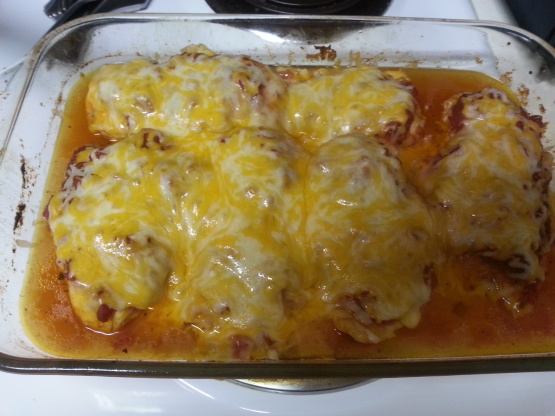 Only difference I made was to buy thin sliced chicken breast, so it was only 30 minutes total. Brown the chicken in hot oil just to brown the outside well; transfer to a greased 9x13" baking pan. Because my chicken breasts were much larger than the ones that Kent used, I increased the sauce ingredients a bit.
A couple other things that I changed were to use a lower oven temperature and to add the garlic to the pepper and onion mixture instead of the sauce.