If your microwave turntable is large enough, you can make 3 cheese crisps at a time by placing 3 sandwich size plates on the turntable.
To make cheese crisps from cubed cheese, cut a circle of parchment paper the size of your microwave turntable. Make an extra large cheese crisp and as soon as you remove it from the microwave, drape it over a small inverted heat-proof bowl. My old microwave didn't do a very good job with these, but I decided to try again with my new one. I have Charski and Vanessa120 at Low Carb Friends to thank for inspiring me to try the oven method. The texture and flavor of the crisps is a bit different from cubes than from pre-shredded cheese for some reason. Place cubes in a circle around the outer perimeter of the paper, about an inch or so from the edge and at least 2-3 inches apart. After I made a whole 8 ounce bag of cheese worth, I weighed the whole batch on my kitchen scale.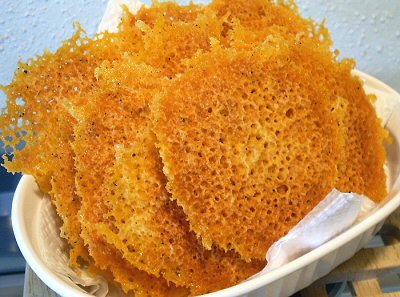 Arrange the cheese squares on a parchment-lined baking sheet in 4 rows of 4 with about an inch between them.
I've since tried baking two kinds of cheddar cheese and they ended up tasting very burnt by the time they got crisp. Microwave on HIGH about 30-40 seconds or until a toasty color and they sound crisp when tapped with your fingernail. It's too bad that you can't tell what your cheese will be like until you make them because the way they came out for me the first few times was very nice. I don't usually like to use pre-shredded cheese for anything, but I found that it works better than freshly shredded cheese for these.
I microwave mine on HIGH about 2 minutes 10 seconds or until most of the liquid and grease has disappeared. I think the powdery coating helps keep them from getting too oily and also makes them get crisp faster. Even when they get pretty brown in the microwave, they never taste burnt like they do from the oven.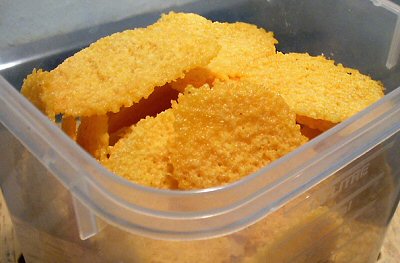 I've tried them with sharp cheddar, Monterey jack and Kroger's brand of Nacho & Taco Cheese blend.
To remove the parchment paper from the microwave, slide it carefully onto a round pizza pan. The ones in the photo were made with Swiss cheese and I sprinkled them with nacho cheese popcorn seasoning after removing them from the oven. You might be able to toss a little dry ranch dressing mix with some Monterey jack cheese for the sour cream and onion flavor, but it would make them very salty.