Although Tova suggested that we lower our ovens by 25 degrees and increase the baking time when baking with Carbalose flour, I'm finding that so far, my baked goods aren't taking any longer than they would have at the original temperature. At the last minute, while mixing the cake batter, I decided to throw in an extra egg (the recipe called for 3 eggs) to help add more moisture as well as leavening since pound cake really has very little leavening other than from the eggs. My pound cake didn't rise much and is only about half as high as my Aunt's pound cake usually comes out, but it's very brown.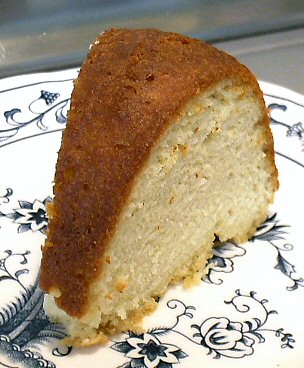 My cake isn't quite cool enough yet to tell how it will be once it's stood for a while, but I took a nibble and it tastes very nice and there's no Carbalose taste at all. So, my suggestion is to set your timer for the lowest amount of time listed in your original recipe and check after that amount of time. I also think that the cake should have been baked a little longer, at least on the inside, but that would be difficult to do without burning the outside.
I think if I had baked this cake any longer than the 70 minutes, it would have been too dark.