This is my first experiment making my regular pudding recipe using xanthan gum instead of cornstarch. This is a pretty decadent dessert, the servings are generous and the carbs fairly low if you use liquid Splenda and Carb Countdown milk. It wouldn't be practical for me to post every possible carb count for using every possible ingredient option for this recipe, so I've only posted the counts for using granular Splenda and liquid Splenda.
I also had a bit of trouble spreading the whipped topping over the instant pudding because it's so fluffy. I found this recipe in a Penzey's spice catalog but their recipe called for real brown sugar.
This is very good once it has chilled, but the consistency is slightly different than regular cooked pudding.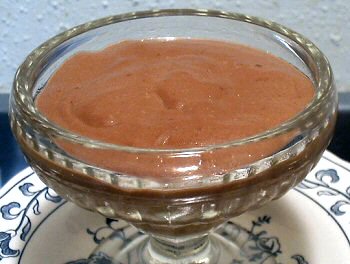 This implies that either granular OR liquid Splenda would be used for every part of the recipe, including the cookies and the pudding.
I gave up trying not to get any pudding mixed into the topping and the chopped peanuts kind of covered up the mess anyway.
He just ate it with a spoon like pudding and said it was one of the tastiest things that he'd ever eaten. If you can't get Carb Countdown milk, you might have to use heavy cream and water to make the pudding. I should also mention that using instant chocolate pudding caused a bit of a problem with the appearance of the dessert.
The red food coloring in the pudding bled into the white whipped topping on the top and turned it an ugly pink.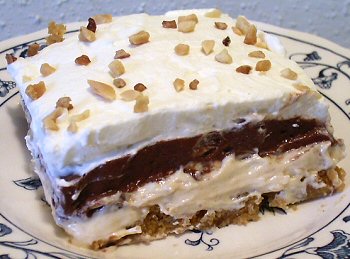 I made mine aiming for the lowest possible carb count per serving using liquid Splenda and the recipe as stated. If you can afford the carbs, this would be very good with instant pudding mix prepared with either Carb Countdown milk or part cream and part water.