A local grocery store that I use to shop, sold a pre-made fajita meat and I would pick it up for fast meals. Now a little bit older, and hopefully a little bit wiser, I realize how easy and  cheap it is to make my own fajita mix. I  saute some chopped onion and pepper together in a little oil for a few minutes while I'm cutting up my chicken.
Heat oil in pan, add garlic and onions and cook til translucent, add chicken breasts and grill over medium heat until nearly browned on both sizes, sprinkle with seasoning salt and add mushrooms to pan.
One of my close seconds for easy recipes this season is hot sausage sandwiches and it is exactly six ingredients. My favorite 6-ingredient recipe is Baked Eggs with Tomato and Spinach: 8 eggs (separated), half an onion, bunch of spinach, can of diced tomatoes, Parmesan Cheese, Mozzarella Cheese.
My favorite six ingredient recipe is a stuffed green pepper: green pepper, ground beef, tomato sauce, rice, mozzarella cheese and onion.
Here's another great soup from the Not So Perfect Momma, Cilantro Lime and Chicken… yum! Do it up right with these loaded fajita chicken nachos topped with everything under the sun.
Our guest bloggers are not employed or directed by The Monitor and the views expressed are the bloggers' own and they are responsible for the content of their blogs and their recipes.
We would roll it in tortillas, top a salad, or make the boyfriend's favorite, Chicken Fajita Nachos.
I'll use either breast or thighs, but I like to cut up the chicken into small pieces.
Season with salt and pepper.  Add a can of drained, rinsed black beans to your fajita mixture and your ready to layer your nachos.
One of my favorite recipes, my mom taught me how to make this, it's so yummy with a side of mashed potatoes.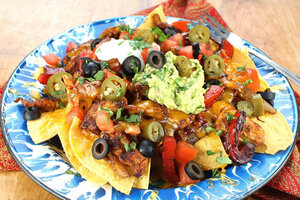 Turn heat to low, sprinkle each chicken breast with some shredded cheese, and then cover with skillet lid.
I'm trying to bring the family back to the dinner table with delicious,, whole foods, It's a constant war between my inner skinny chick and my sweet tooth. All readers are free to make ingredient substitutions to satisfy their dietary preferences, including not using wine (or substituting cooking wine) when a recipe calls for it.