This morning I taught a boot camp class at the gym that had people jumping all over the place and working up a sweat. I initially planned for the class to run through the workout two times for a 48-minute workout, but we had to cut things short to have time to cool down and stretch before another instructor needed the sound system. The last group exercise class I attended was a Yoga class, and before then a boot camp class.
Last time I taught a group fitness class was 2 weeks ago–right before I had my baby girl! I am subbing for another instructor who is out for the next few weeks and followed her format for the class. Since I didn't complete the workout with the class, I did my own upper body weight workout before finishing up work for the day (I worked the early shift again).
When I left today's workout, I knew I wanted to share what I could remember from it with you guys this afternoon since a number of you seemed to enjoy the boot camp workout I shared last Wednesday.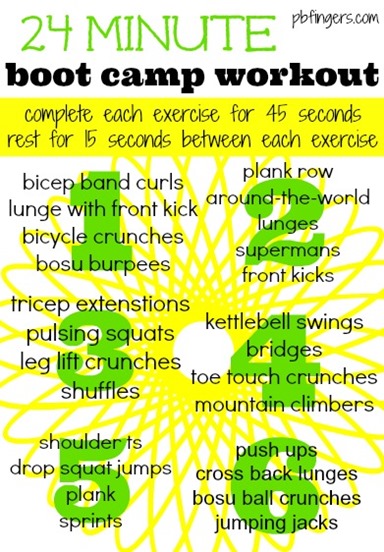 Well, I ended up increasing the duration of today's boot camp workout to make this 60-minute intense boot camp workout. The whole class felt like a big sweaty party, with people laughing and making jokes throughout, and chatting during every single break. What was particularly cool about class was that Amanda explained why she was leading us through these exercises, telling us that the hips and glutes were often the weakest muscles on runners, and those weaknesses lead to imbalances and injuries.
After class, we hydrated with Amanda's incredible watermelon slushie and 2B drinks, who kindly sent me a sample pack last week and whose products I'll be reviewing (with a giveaway!). A HUGE thank you to Amanda for leading us in this amazing class and providing such a lovely space for the class to be held. Though I am enjoying teaching water fitness, boot camp-style classes are more my style since they're the kind of workouts I absolutely adore.
The class is a 55-minute class, but the workout portion usually takes around 40 minutes since we spend time warming up, cooling down and learning the exercises in each station of the boot camp.
You will likely finish all of the exercises in each station before three minutes are up, so simply repeat the exercises over and over again until three minutes are over.
At one point, probably during the star jumps that Amanda threw in between the circuits as a special surprise, Ashley looked over and saying, "thanks, Jen!" I'd earlier convinced her she could totally handle the class after our long run that morning. And last night I had intramural volleyball for my sorority which counts as a group exercise kind of…haha I am so sore today!
My husband and I haven't been able to find an affordable gym since we moved, so the last class I went to was probably back in May.