27.04.2016
Reports suggest that the Las Vegas real estate market in Nevada is closer to long-term stability than it has been in the last five years.
The Las Vegas real estate market currently boasts a median home price of $203,000, nearly $14,000 less than the national average. Three strong years of historically high appreciation have increased equity in the Las Vegas housing market. Homes purchased in the Las Vegas housing market one year ago have appreciated by an average of $23,811, whereas the national average was $12,783 over the same period. Homes purchased in the Las Vegas housing market three years ago have appreciated by an average of $86,153, whereas the national average was $55,406 over the same period. Homes purchased in the Las Vegas housing market five years ago have appreciated by an average of $74,623, whereas the national average was $49,675 over the same period. Homes purchased in the Las Vegas housing market seven years ago have depreciated by an average of $66,451, whereas the national average increased $9,474 over the same period. Homes purchased in the Las Vegas housing market nine years ago have depreciated by an average of $67,733, whereas the national average increased $3,419 over the same period. Most of the expected demand should come from Millennials, who've largely been neglected for the better part of a decade because of a number of economic factors. Were it not for a poor job sector, the Las Vegas real estate market could serve as a prominent leader in the current economic recovery. Despite an economy that has a long way to go, investors are focusing their efforts on high-end rental complexes in hopes of attracting millennials that can't yet buy. Single-family housing permits are down more than 4 percent, whereas the national average saw a 2.3 percent increase. According to Zillow, "foreclosures will be a factor impacting home values in the next several years.
The road to recovery in the Las Vegas real estate market has taken more turns than almost any other city in the country. It appears as if 2016 is going to be a great year to make a Las Vegas real estate investment.
Las Vegas real estate investors will take comfort in the fact that homes are still relatively affordable. Despite appreciating at a rate nearly twice as fast as the national average, Las Vegas real estate is still more affordable than most markets across the country. The amount of foreclosures in the Las Vegas real estate market is 16 percent higher than it was at the same time last year. The majority of distressed properties in Las Vegas are simply at risk of being repossessed because of the owner's inability to pay their mortgage obligations. For all intents and purposes, Las Vegas real estate investing and homeownership are benefiting from a healthy market.
Actively investing in real estate, FortuneBuilders is uniquely built to provide investors with the right education and systems for success. You must have JavaScript enabled in your browser to utilize the functionality of this website.
The continuing trend of strategically defaulting on a residential mortgage will hurt the Las Vegas housing market in 2010 more than it will help it. Inventory is at a high level because of foreclosures and shows no sign of lowering any time soon.
One of the more promising trends in January was the continued increase in short sales and a decrease in sales involving foreclosed homes. The extension of the First Time Home Buyer Tax Credit has also impacted the market in a positive way. Encouraging moves in the Las Vegas real estate market, including a substantial inventory of available property, low interest rates, eased credit restrictions, and a confident population that sees the state of Las Vegas real estate in a positive light.
For homebuyers casting their eye on the Silver State as a great place to set down roots, the Las Vegas real estate market provides an excellent opportunity for you and your family. From family-friendly monikers like The Entertainment Capital of the World to the more famous Sin City title, Las Vegas has captured the American consciousness since emerging from the barren desert following the Second World War. As the destination point of more than 40 million visitors last year, the town is well equipped to handle the crowds who throng to the city's vibrant nightlife, exciting gaming action, and the natural allure of the beautiful desert that surrounds the greater metropolitan area. While the neon glare of the famed Las Vegas Strip is a beacon to millions of tourists, the chances are good that you would want to set up house away from that iconic landmark, and Las Vegas has some ideal neighborhoods far removed from the hustle and bustle of the Strip. If you are looking for quaint, quiet neighborhoods, your search will direct you to the pleasant neighborhoods of Meadow's Village and nearby Rancho Charleston. One of the current allures of the Las Vegas real estate market is its stable and predictable nature. As an example, median sales prices averaged $220,000 last month, which, while unchanged from the month before, represents a nearly 9% jump from the 2014 numbers according to the Greater Las Vegas Association of Realtors.
Since there is no reason to go house hunting if nobody is willing to give you a loan, Nevada homebuyers can be buoyed by the fact that banks and lending institutions are providing funds for purchases on par with the rest of the nation. Nevada property in general, and Las Vegas real estate in particular, was among the hardest hit by the national 2007 housing crash as the Silver State's boom and bust economic cycle went decidedly belly up.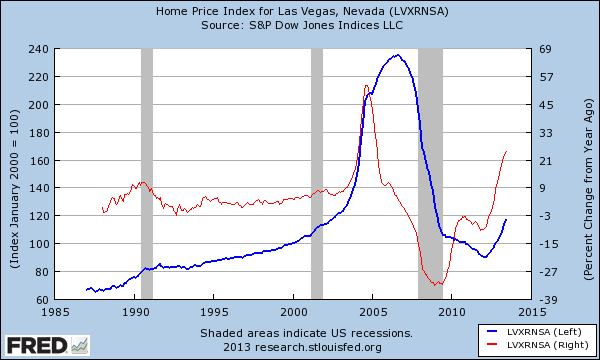 Learn some amazing things about Las Vegas like its culture, great outdoors and seriously awesome bowling.
After years of planning and delays, construction for Henderson's massive new Cadence community is finally underway, marking a new beginning for residential real estate here in Las Vegas' most desirable suburb. A couple highly anticipated communities are set to make their official debut this weekend and we couldn't be more excited. An active adult community that's also guard gated, Heritage offers 19 highly functional floor plans, of which one even includes an oversized garage. Now that we're a week into the new year, most can look back and say 2015 was a pretty solid year for the Las Vegas real estate market.
More good news was reported as it relates to total home sales in 2015 as well, as that figure also jumped by nearly 8% in 2015, with 38,578 closings documented over the last 12 months. New home communities seem to be popping up all over the Las Vegas area right now and the latest to hold its official Grand Opening is Laguna Creek, located on the southwest side of town just beyond Blue Diamond Road off S.
Henderson's newest housing community is set to make its debut tomorrow with a Grand Opening party planned from 10 a.m.
Back in October, reports surfaced about a home site in the exclusive new Ascaya community selling for $2.6 million. In June 2012, Las Vegas short sale home closings outpaced Las Vegas REO (bank owned) home closings for the first time since the Las Vegas real estate demise started in 2006. Las Vegas Area Sold TermsA Various Graphs and Charts that show what percentage of homes were Cash only or Financed. Las Vegas Area Concession StandA Shows what percentage of concessions (or closing costs) sellers are giving buyers. Las Vegas Area REO or Bank Owned HomesA Comprehensive Reports on Las Vegas Area REO including financing profiles by price point and absorption rate.
Las Vegas Area Short Sale HomesA Comprehensive Reports Detailing Short Sale Listing, Contract & Sold Stats. 2 Simple Ways to Save Money NOW On Your Electric BillOctober 7, 2014 By Renee Burrows Leave a CommentI dona€™t understand why so many people are jumping shark and going gaga over the free solar panel a€?giveawaya€? in Las Vegas. Ikea's Famous Cinnamon Rolls, Swedish Meatballs, Gadgets and Furniture Coming to Las VegasJuly 17, 2014 By Renee Burrows Leave a CommentIKEA USA announced via it's facebook page and a press release that they are planning to bring their famous cinnamon rolls, swedish meatballs, gadgets and inexpensive furniture to Southwest Las Vegas! However, in getting there, Las Vegas had to make significant strides over the course of a year. The prominent real estate valuation site based its data on income, growth in home values and the number of entry-level homes on the market. That said; millennials should finally get their homebuying feet wet, as rents exceed record highs and home prices stabilize. The apartment business, or buy and hold business as investors have come to know it, is gaining popularity. The drop in construction rates should limit the amount of inventory made available, allowing demand to catch up with the supply. The housing sector as a whole looks primed to make sustainable moves, and Sin City is no exception.
At 50.4 percent of the distressed market, this is a large pool for Las Vegas real estate investing to target.
Although this information was found from sources believed to be reliable, FortuneBuilders Inc. Although more houses are being moved, more people are falling into foreclosure and housing prices continue to drop with no signs of an end. The demand doesn't exist in Las Vegas to absorb the supply of homes on the market through this year and most of 2011.The beginning of the year is looking a lot like the end of 2009, with home prices in double-digit decline from year-ago figures and sales posting double-digit gains.
Home buyers now have the opportunity to take advantage of the credit for another three months. However, these lending rates are nowhere near the value of loans that were liberally handed out in Nevada during the heyday of the housing market before the bottom fell out in 2007. For those caught in the maelstrom of that event, they'll remember how Nevada spiraled to the second highest foreclosure rates in the nation, after New Jersey, with upwards of a quarter of Nevada mortgages underwater.
Once finished, the expansive LandWell Company community will feature well over 13,000 residential units, several community schools, 450 acres of open park space, and 1.1 million square feet of commercial space that includes a full-sized grocery store and casino-resort.
A Las Vegas home sellersA are delighted to have so much buyer activity and multiple offers on their homes. Our absorption rate continues to be in sellera€™s market mode with around 2 months of inventory which indicates a strong sellera€™s market.
See what percentage of Las Vegas Area Sales are Short Sales, REO (bank owned) & Standard Sales! It seems like the Las Vegas home sellers now have palatable house prices and have decided to list their homes.
To me a€" home inspection responses are nothing but re-negotiation of the original contract. A  I say a€?go big or go homea€? which means BUY your solar panels a€" do not lease or rent your roof out and get stuck in long contracts.
A Active home listing inventory has almost doubled year over year and pending sales inventory has dropped 25% and sales are down 10% from lastA year.
Current trends in the area indicate no significant fluctuations, suggesting true normalcy may be on the horizon. The expansion of the economy has made it more reasonable to own a home than in recent years, and millennials are aware of that. Las Vegas, in particular, has taken rentals from low-income properties to one of the best preforming aspects of its commercial sector.
That said; foreclosures and short-sales now have a greater impact on inventory than new construction. The median asking price of a single-family Las Vegas home is now $232,995, which represents a 15.3 percent increase over last year.
Realtors sold 2,608 single-family homes in Las Vegas during January, a 17.3 percent increase from the same month a year ago. This suggests that lenders are more willing to work with homeowners and work out short sales as an alternative to foreclosing on homes. It looks fairly evident that the Las Vegas housing market will struggle in 2010 as it faces more price declines and a growing number of foreclosures.
As the state seeks to dig itself out of the mortgage quagmire that has heretofore slowed growth and recovery in the housing sector, high levels of new building construction, coupled to high foreclosure rates, means that buyers have many options when they go out to explore the Las Vegas real estate market for their next dream home. For the most part, 2015 was little more than just the earliest beginnings of this dynamic new master-planned community and it's what to expect over the next couple years that will really start making Cadence a highly sought after destination among home buyers. Being called Stonelake, this fabulous new KB Home development features innovative home designs with today's modern home buyer in mind. The city's stimulation is due, in large part, to a heavy presence of foreign and domestic investors looking to capitalize on the buy and hold market.
While prices are certainly up from this time last year, the rate of appreciation has begun to ease. It is because of this that investors have been searching from highly discounted properties to convert into rentals.
The increased foreclosure and short sale rate will add more properties to the market in coming years. In fact, existing home prices are up an impressive 8.3 percent over the course of 12 months. At just under 100 percent, homes in the Las Vegas area are selling below their asking price. That is to say that these properties are either at risk of being repossessed, have already been repossessed, or are scheduled to be placed up for auction. The median sales price of a foreclosure home was $135,487, or 23 percent lower than non-distressed home sales. For a state that has the second worst unemployment rate in the US watch for prices to fall even more throughout the year. The first, and most important, aspect potential home buyers might notice about homes for sale in Stonelake is the community's supreme affordability.
Subsequently, the luxury home market realized significant increases in activity over a similar period, but has begun to temper over the last year.
Without question, the job sector is heading in the right direction, as is apparent by the 2.6 percent improvement over the course of a year.
With hat in mind, investors are responsible for buying nearly 11,700 units, at an average price of $65,000, by the third quarter of 2014. Sales, for the most part, have mirrored prices; jumping to their second-highest level in recorded history.
Seeing as how Las Vegas was one of the markets most impacted by the recession, it had a long way to go in its recovery. Sales in the Las Vegas real estate market are now 22.6 percent higher than they were at this time last year.
This is a good sign for Las Vegas real estate investing, and those looking to acquire properties at a low price.
Those interested in Las Vegas real estate investing will find that these deals offer the best spreads in the city. Taking out pending and contingent sales, or homes that are under contract, the number is reduced to 8,107 available units.
Such a development was shocking to see in a city where cash purchase were once so prominent.
With all of the purchases, of course, vacancy rates have dropped, suggesting that investors know what they are doing. People, investors in particular, are starting to take note, and the Las Vegas housing market should benefit from the added attention.