I'm a wife, a mom, a daughter, a sister, a friend, a blogger, a martial artist, a homeschooling facilitator, a newspaper columnist, an editor, a project manager and, occasionally, it all gets to be a bit much.
Homeschooling parents, REGARDLESS of job status, who feel like there's never enough time in the day for themselves, their spouse, their friends or their house.
Parents who work and want to spend more quality time with their kids, regardless of educational philosophy.
The title graphic for this guide shows my ACTUAL to-do list, from a calendar pad I get each year at the kiosk in the mall. One of our biggest motivations for homeschooling was that it would actually use less of our family's time than traditional school, especially with the volume of homework and projects we were dealing with as parents of a middle-schooler, while allowing us to actually learn more in both depth and breadth. That said, I know plenty of homeschooling parents who drive themselves crazy by planning WAY too much time for school. Before moving to my work-from-home position, I also worked about 50 to 60 hours between my office job and a couple of part-time jobs, and at that time, we were dealing with public school problems, occupational therapy and an autism spectrum diagnosis. While I live in Pennsylvania, one of the best resources I've found for working parents who homeschool is this list from Homeschooling in North Carolina. I am a huge fan of the Pioneer Woman, Ree Drummond, an amazing homeschooling domestic diva. Specifically if you own your own business, work freelance or otherwise set your own schedule, pick your times wisely. Second, I keep my individual work blocks fairly short – almost never more than an hour and a half. Gretchen Rubin's The Happiness Project website (and book!) have been life-changing for me. A wonderful post on Hip Homeschool Moms, Out of the Overflow, talks about letting go of the minutia of homeschooling for a little and focusing on time with God, time with your spouse and time with your family.
Working and homeschooling and having a life and keeping a house aren't an easy set of plates to keep spinning.
First of all, if YOU have books, websites or ideas that are helping you juggle a busy life, especially if you're homeschooling as a working mom, please leave me a comment below!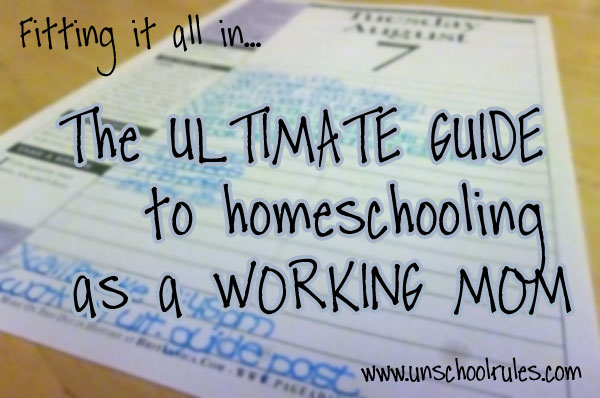 Mostly, I encourage you to read through and see how we juggle our household, our homeschool, our work and our personal lives – even if not all those areas apply to you. For most of us, this is the LOWEST priority item when it's compared with your homeschool, your work and your personal life. I would highly encourage you to check out The Ultimate Guide to Housekeeping Habits on Habits for a Happy Home, as well as One Fun Mom's Ultimate Guide to Keeping Your Home and Keeping Your Temper for a much more thorough list of resources than I can get into here. I talk more about what this system meant for me when I discovered it in this post about the books that have influenced me the most, but the short version is that her system taught me to do one thing at a time, and to chip away for short, focused periods. We're very far on the informal end of things, but I believe that for some families, a much more structured approach is the right one.
If you have that background, it will be much easier for you to feel confident about adjusting on the fly when work gets hectic or the house looks like it's a step away from being condemned. We live in Pennsylvania, home of Documentation Requirements That Make Even Organized Moms Weep. This is key no matter what, but I attribute it as the number one factor in my ability to work from home. They're done mostly from home, though I have a day a week in the office for my part-time job, and occasional travel requirements for the full-time one. There are forums, essays and all sorts of help, from practical tips to simple reassurances that it CAN be done. On the homeschooling section of her blog, one contributor, Heather, shared a reader question about Homeschooling When Both Parents Work, and the comments are full of fantastic advice.
That means, to me, that I never give Sarah the impression that I'm consistently too busy for her.
I am a better, more focused employee who can often accomplish twice the work in half the time thanks to my tae kwon do practice. I hope, though, that I've pointed you in the direction of some ways to make the road easier to walk – and some encouragement for the path!
I actually work for Baker as his project manager (and writer!), but I'm not getting any money out of this.
My husband works 60 to 70 hours a week in an office, and we both run small businesses from home on the side. I've completed three sets of 29 gifts so far and am looking forward to completing at least one more before the end of the year. The Homeschooling in North Carolina site is full of excellent material–thanks for sharing the link!
I, too, am not a working or homeschooling mom at the moment, but I was afraid that when I did need to return to work, that I wouldn't be able to homeschool Keira like I want to, & you have helped to alleviate my fears! Appointments, work tasks (including concrete subtasks of larger projects), homeschooling objectives (depending on your learning method). And, in fact, when I discovered MvD almost three years ago, I had no idea I'd someday live the dream of WORKING on it! Specific to our state, there is an amazing site, Ask Pauline, that gives free printable copies of a variety of formats for most of your official paperwork. There is no way, though, that I can work during the two hours before dinner or before Sarah's bedtime.
And if I neglect those parts of myself and my relationships for too long, I'm only part of myself, and not the best part.
One of the best takeaways, for me, was that I believe that changing your perspective into one of abundance serves to make it clear to you how abundant your life really is.
Paying off debt has freed up money, but more importantly, it's freed up options – like changing jobs when the opportunity arose to find one that was a better fit for our homeschooling lifestyle!