Mayor Gluba and local businesses are teaming up to provide a one-stop-source for teens to find employment and learn valuable job skills.
This afternoon, teen job-seekers will be the focus as workforce centers in Douglas, Arapahoe and Denver counties have combined forces as part of the Governor's Summer Job Hunt program to host a Youth Job Fair from 2 p.m. Mack says today's teen job applicant is competing against adults for even the smallest seasonal part-time position. She encourages teens to realistically look at adults as competition and be prepared to meet that competition head-on.
In preparation for filling out applications, teens are asked to bring a photo ID and know their Social Security number.
As adults vie for jobs in a competitive job market, teens may wonder if they will be able to land a part-time or summer job. But at the installation's annual Fort Meade Community Teen Job Fair on March 3, more than 40 employers will offer real job and volunteer opportunities for qualified teens in the hope that they develop marketable professional and personal skills.
To help young people prepare for the job market, the Fort Meade Teen Center sponsors a series of employment readiness seminars tailored specifically to youths.
Young people are advised to bring copies of their resume, job references, two pens and a note pad to the fair. For more information about the Fort Meade Community Teen Job Fair, call the Employment Readiness Program at Army Community Service at 301-677-5590.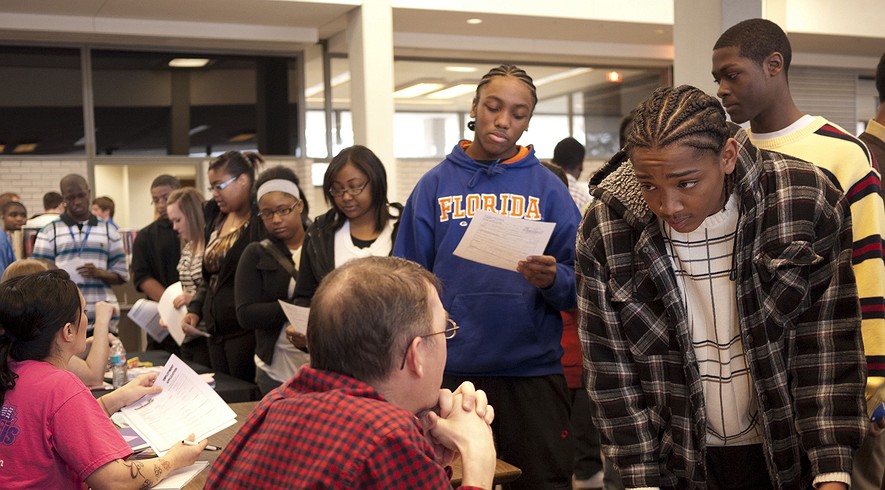 Mack advises teens who are worried about the interview process to practice with their parents.
Those who can't make it to the job fair are encouraged to contact their local workforce centers, for frequently-updated job listings and other job fairs specifically geared towards teens. The National Security Agency and the Defense Information Systems Agency will also participate in the fair.