Job seekers with robust LinkedIn, Facebook and Twitter profiles have better access to job opportunities at growing companies than candidates whose job searches don't include active social networking profiles, according to the results of a new survey.
Jobvite, a maker of recruiting software, released the results of its third-annual social recruiting survey this morning, and the findings underscore the many reasons job seekers need to incorporate online social networking into their job searches.
Jobvite asked 825 HR and recruiting professionals about the extent to which they use social networking websites in their recruiting process to find and vet candidates for jobs.
If you're looking for a job and not active on LinkedIn, Facebook or Twitter (the three social networking websites most popular with employers, according to the survey), here are four reasons to join these sites and actively manage your profiles. Companies that are hiring the most people in the shortest periods of time "are the ones who are more aggressively pursuing social recruiting," says Dan Finnigan, Jobvite's CEO. The Jobvite survey results show that employers prefer using social networking sites for recruiting because they make advertising jobs and sourcing candidates cheap and easy.
Some employers are shifting their recruiting activity away from traditional channels, such as job boards and third-party recruiters and search firms, as they deepen their engagement with social recruiting. Their answers indicate that they view social networks as a viable channel for sourcing high-quality candidates and that they plan to increase their use of social networking websites in their recruiting efforts this year. Jobvite found that 36 percent of survey respondents say they plan to spend less money on job boards as the economy recovers. The primary reasons for not using these methods are the legal risks, the lack of verifiable data and the lack of the job-relatedness of much of the information found online. Of the small percentage of organizations that use information from online search engines (26%) or social networking websites (18%) to screen candidates, few have actually used this information to disqualify job candidates.
Of the small percentage of organizations that use these methods for screening, the most commonly reported time for conducting the screening was after the job interview but before the job offer.
For that reason, online social networks are among the first places employers advertise jobs. One-third of respondents always check out candidates' social media profiles when vetting them.
In addition, there is a growing number of companies that have developed or are in the process of developing polices around the use of social networking websites for screening job candidates.
Conversely, close to two-thirds of organizations (64%) have never used online search engines to screen job candidates or used them in past but no longer do so. In 2008, 72% of organizations had no formal or informal policies regarding the use of these sites for job screening. What many may not realize is just how powerful these existing networks can be when it comes to looking for meaningful work. 58 percent of respondents have successfully hired candidates through social networking websites.
Employers are quickly catching on the social media trend, and are using it to do everything from advertise open positions to engage in actual recruitment with contacts, friends, and followers. Scanning job boards and e-mailing a resume may still be an effective way to land an interview in some cases, but today's recruitment world is increasingly dominated by much more tangential relationships. Understanding how to use the social networking space for professional gains is key to finding that perfect job in today's still somewhat rough-and-tumble economy."In the past, companies tried to determine candidate fit through their resumes. Today, employers perform web searches on candidates, learn more about them from social media, and examine their work samples," Chirag Nangia, founder and CEO of online search tool Reppify, recently told Forbes. What used to take a tremendous amount of legwork on the part of the candidate can now be done through a quick search on the web," he said.Job hiring statistics from the last year back up Nangia's claims.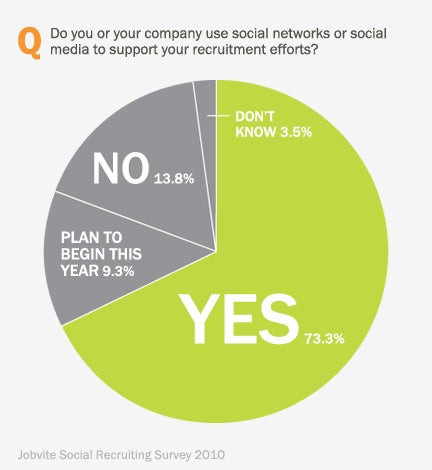 Social recruiting platform Jobvite's 2012 survey of online hiring practices found that a full 92 percent of U.S.
More than 70 percent have successfully hired a candidate through social media, and about 43 percent say that the quality of their applicant pool has improved since they began tapping the online space."The rise in social recruiting has allowed both candidates and employers an easier way to find the best match," Dan Finnigan, Jobvite CEO, said shortly after the survey results were released.
It also increases quality referral hires, which our own data on Jobvite proves are hired faster and last longer."Professional networking site LinkedIn tends to be one of recruiters' favorites.
This site allows users to build profiles of job-related contacts, and to join certain industry circles. Online recruitment is not just about the strictly professional, though; even more mainstream personal sites like Facebook and Twitter are increasingly being leveraged by and for job seekers. Most modern job counselors recommend that applicants increase their online visibility, whether by commenting more often, friending more groups and organizations, or blogging about professionally-relevant topics. The more pertinent information recruiters can find about potential candidates online, the better.This, of course, may raise a few concerns—particularly for those with overly personal profile pages.
Job seekers are usually advised to set up tight privacy parameters around photos and notes that they would not want their future bosses to see. Used poorly, it can essentially blackball otherwise quality candidates—but when leveraged with wisdom and a bit of foresight, it can be the difference between an unread e-mail and a job offer.Emma Collins, author of a recent report of the top MBA programs in 2012, writes in today with an important article about how social networks can be leveraged for job advancement for everyone from new graduates to experienced freelancers. The Skyje Social Design Blog has looked at a couple of different ways of meeting client demands in prior postings; this article deals with the related question of how those clients can be discovered and reached out to in the first place.