24% of teens go online "almost constantly," facilitated by the widespread availability of smartphones.
Aided by the convenience and constant access provided by mobile devices, especially smartphones, 92% of teens report going online daily — including 24% who say they go online "almost constantly," according to a new study from Pew Research Center.
Facebook remains the most used social media site among American teens ages 13 to 17 with 71% of all teens using the site, even as half of teens use Instagram and four-in-ten use Snapchat.
This study uses a somewhat different method than Pew Research Center's previous reports on teens. Facebook remains a dominant force in teens' social media ecosystems, even as Instagram and Snapchat have risen into a prominent role in teens' online lives. Teens from more affluent households are somewhat more likely than those from the least affluent homes to say they visit Snapchat most often, with 14% of those from families earning more than $75,000 saying Snapchat is their top site, compared with 7% of those whose families earn less than $30,000 annually. As American teens adopt smartphones, they have a variety of methods for communication and sharing at their disposal. And teens are not simply sending messages through the texting system that telephone companies offer.
Teenage girls use social media sites and platforms — particularly visually-oriented ones — for sharing more than their male counterparts do.
The survey question that asked about devices asked teens whether they "have or have access to" a list of five tools: smartphones, basic phones, desk or laptop computers, tablets and game consoles. Teens' Twitter use has grown significantly: One in four (24%) online teens uses Twitter, up from 16% 2011. The number of teens who say they "use a social networking site like Facebook" is still significantly higher than it is among adults; 81% of online teens say they use social networking sites such as Facebook, while 67% of all online adults use these sites.
While Facebook and Twitter are often grouped together as "social media sites" or "social networking sites," our data have shown repeatedly that a small segment of teens and adults think of Twitter differently. Looking at the full universe of teen social media users, we find that 82% of online teens say they are either users of social networking sites like Facebook or users of Twitter.15 This group will be referred to as teen social media users throughout the report.
Older teens (those ages 14-17) are significantly more likely than younger teens to use both social networking sites and Twitter, with older girls in particular standing out from both older boys and from younger teens of either gender. African-American teens are substantially more likely to report using Twitter when compared with white youth. Continuing a pattern established early in the life of Twitter, and reflected in our earlier data, African-American teens who are internet users are more likely to use the site than their white counterparts. The frequency of teen social media usage may have reached a plateau; three in four teen social media users visit the sites on a daily basis.
Since 2011, the number of teen social media users who visit the sites "several times a day" has not changed in any significant way; 40% said they have visited the sites several times per day in 2011 and 42% reported that in the current survey.
Facebook and other platforms have almost entirely displaced MySpace; relatively few teens say that Twitter is the profile they use most often.
In addition to asking about their general usage of social networking sites, we also asked the 82% of teens who use social media two follow-up questions about their social media use. When asked where they maintain profiles or accounts, some 94% of teen social media users say they have a Facebook profile, and 81% say that Facebook is the profile they use most often.
As was the case with the general Twitter usage figures discussed earlier, teen girls who are social media users are much more likely than boys to maintain an account on Twitter (31% vs. Simply having an account on a social media site does not necessarily reflect liking or caring about the site.
Consequently, many reported maintaining multiple profiles or accounts on Facebook and using different sites for different purposes, or migrating wholesale away from Facebook to other platforms or to offline interactions in which they felt more free.
In contrast to the widespread negative feelings about interactions on Facebook, the focus group participants who used Instagram expressed particular excitement about this social media site. A popular new application brought up repeatedly in the focus groups is Snapchat, an image-messaging app where sent pictures and videos are displayed for only several seconds and then are deleted by the platform (receivers can take a screenshot, but the sender is usually alerted to this). Lastly, some focus group participants mentioned using Google Plus, perceiving that adults see it as more related to Google and homework and hence consider it more acceptable than other social media sites.
Yet, despite the overwhelming use of social media among teens, we found among focus group participants that text messaging and offline conversations are still the preferred method of communication for very sensitive, personal, or significant information.
Overall, a picture emerged where changing teenage social media preferences are driven as much by what type of interactions take place on a given site as by the features of the site itself.
Adult data comes from an August 2012 survey that was in the field during the same period as the survey of teens. More than half (56%) of teens — defined in this report as those ages 13 to 17 — go online several times a day, and 12% report once-a-day use.
Nearly three-quarters of teens have or have access1 to a smartphone and 30% have a basic phone, while just 12% of teens 13 to 17 say they have no cell phone of any type.
Among African-American teens, 34% report going online "almost constantly" as do 32% of Hispanic teens, while 19% of white teens go online that often. A majority of teens — 71% — report using more than one social network site out of the seven platform options they were asked about. While both are probability-based, nationally representative samples of American teens, the current survey was administered online, while our previous work involved surveying teens by phone.
Asked which platforms they used most often, the overall population of teens in this sample (ages 13 to 17) reported that Facebook was the site they used most frequently (41% said that), followed by Instagram (20%) and Snapchat (11%). Teens from less well-off households (those earning less than $50,000) are more likely than others to say they use Facebook the most: 49% of these teens say they use it most often, compared with 37% of teens from somewhat wealthier families (those earning $50,000 or more). Twitter shows a similar pattern by income, with the wealthiest teens using Twitter more than their least well-to-do peers.
Some 73% of teens have access to smartphones and among them messaging apps like Kik or WhatsApp have caught on.
For their part, boys are more likely than girls to own gaming consoles and play video games.
The survey was administered online by the GfK Group using its KnowledgePanel, in English and Spanish, to a nationally representative sample of over 1,060 teens ages 13 to 17 and a parent or guardian from September 25 to October 9, 2014 and February 10 to March 16, 2015. It conducts public opinion polling, demographic research, media content analysis and other empirical social science research.
When we ask a standalone question about Twitter use, there is consistently a group of users who say they are not users of social networking sites, but they do use Twitter. In 2011, 24% of teen social media users visited the sites "about once a day," while 25% reported doing so in the current survey. Among teen girls who are social media users, 48% say they visit social networking sites several times per day, compared with 36% of teen boys. One in four (26%) teen social media users say that they have a profile or account on Twitter (with 7% saying that Twitter is the profile they use most often)18, and 11% have a profile or account on Instagram (3% say that Instagram is the profile they use most often). 21%) and older teens ages 14-17 are more likely than younger teens to have a Twitter account (31% vs.
For Facebook in particular, while some focus group participants enjoyed using it, far more associated it with constraints through an increasing adult presence, high-pressure or otherwise negative social interactions ("drama"), or feeling overwhelmed by others who share too much.
It also may be seen as an extension of underlying teenage social dynamics, where teens seek out spaces free of adults, and teens who want to avoid the drama of teenage life try to inhabit alternative social spaces.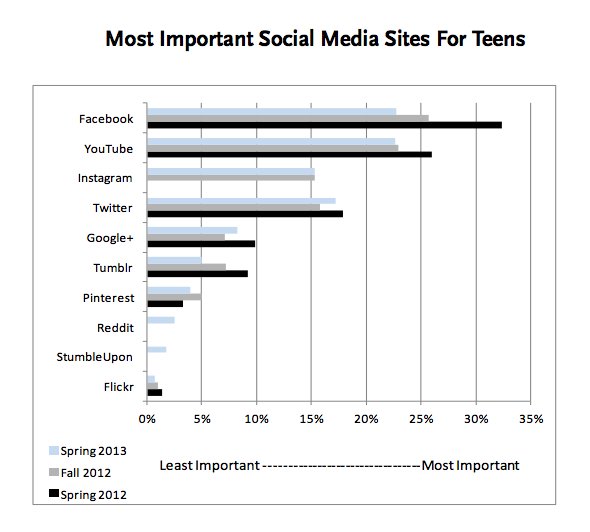 African-American teens are the most likely of any group of teens to have a smartphone, with 85% having access to one, compared with 71% of both white and Hispanic teens.
Among the 22% of teens who only use one site, 66% use Facebook, 13% use Google+, 13% use Instagram and 3% use Snapchat. It should be noted that some of these differences may be artifacts of differences in use of these sites by these different subgroups of teens.
Some 88% of teens have or have access to cell phones or smartphones and 90% of those teens with phones exchange texts.
Looking more closely at the 24% of online teens who use Twitter, 3% say they do not use a social networking site like Facebook. Looking at younger teens ages 12-13, 26% use the sites several times per day, while nearly twice as many teens ages 14-17 (47%) use the sites that often. Although Twitter use among teens has grown across several measures (such as general usage and for those who maintain an account), few teens point to Twitter as their primary or most-used account. By comparison, only 7% of teen social media users say they maintain a Myspace account, and none of the survey respondents said MySpace is the account they used most often. The site may have less social interaction overall, and fewer interactions with known friends, but the interactions for many are generally supportive and encouraging. These phones and other mobile devices have become a primary driver of teen internet use: Fully 91% of teens go online from mobile devices at least occasionally.
And Hispanic and African-American youth with phones are substantially more likely to use messaging apps, with 46% of Hispanic and 47% of African-American teens using a messaging app compared with 24% of white teens. Still, 24% of online teens now use Twitter, a figure that is up from 16% in 2011 and 8% the first time we asked this question in late 2009. That is in stark contrast to the 85% of teens who said in 2006 that MySpace was their most frequently used profile. The presence or absence of high social stakes seems to be less about the specific features of the site, and more about the way in which people use it. The magnitude and direction of these effects are difficult to predict, though for most kinds of questions, the fundamental conclusions one would draw from the data will be similar regardless of mode. A similar pattern emerges among those who use Twitter most often; older teens are more likely than younger teens to say Twitter is their primary social media account (9% vs.
By comparison, teens who don't access the internet via mobile devices tend to go online less frequently.
When there are significant differences between Hispanic teens and non-Hispanic white and black teens, they are noted. However, for questions that were asked of teen social media users and other subgroups of users, the sample size is too small to report findings for Hispanic youth. 3%) as a most often used platform, while younger teens ages 13 to 14 are more likely than their older compatriots to list Instagram (25% vs. These teens are likely using the site to passively consume or search content without creating an account and posting their own tweets.