With more job seekers using the internet to find a new job it is only natural that employers would take the same route in finding and researching potential employees. A survey of more than 2000 hiring managers and HR professionals conducted by Harris Interactive on behalf of CareerBuilder in February of 2012 found that 37% or nearly two in five employers check social media when looking at a potential employee.
It's not just LinkedIn anymore, employers are checking Facebook, Twitter, YouTube and other social media websites to learn more about a potential hire according to the survey.
Employers are looking at your personality, your interests, your background and your demeanor.
They are also checking for inappropriate posts, racy pictures, any previous employer bashing, misspellings, hateful rants or racial slurs, illegal activity and to see if you lied about your qualifications.
Your current company can also check social media on a regular basis as a determining factor when layoffs are ahead or if a promotion is being considered.
MBA programs are now offering classes that cover effective use of social media sites like LinkedIn and Facebook.
Anonymity can be your friend on certain social media websites if you feel the need to be less than professional.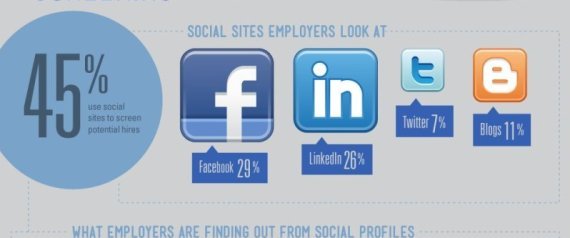 Anne MoreinLA Social Media ExaminerAnne Morein is a Los Angeles native and social media enthusiast. See why Facebook blocked this website from being used on it's social platformsFacebook has stopped allowing its users to mention the name of another social network on its apps and website.