The system of currency known as VC throughout NBA 2K13 is widely perceived to be the worst aspect of the game this year as it afflicts every mode and alters the way an individual might typically choose to play.
At halftime of the first game of NBA 2K13 to be played in a given day the opportunity is presented to pick the winners of the slate of NBA games.
There is only the one chance to pick the games as that screen doesn't show up in subsequent playthroughs of NBA 2K13 the rest of the day.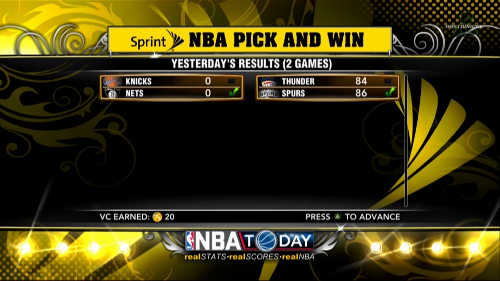 Even picking a number of games right won't amount to a significant enough tally of VC to make it worth going out of the way for. In the course of normal play however it makes sense to get in the picks and get whatever one can for their VC totals.