The good news for fans who are coping with small-sample failure is that just by qualifying for the playoffs, this year's 10 postseason teams have, historically speaking, given themselves an even shot at returning to October in 2015. 2014 MLB PlayoffsAll of our postseason coverage!Conservatively speaking, though, chances are that five of this year's playoff teams will be back next year, which leaves only five hypothetical spots to be distributed among the 20 teams whose players have already been hunting, fishing, and finding other ways to avoid their families for the past few weeks.
To answer that question, I determined the percentage of each team's 2014 playing time and Wins Above Replacement1 that came from players who are under team control for 2015. The third graph, featuring loosely team-color-coded bars,2 combines the hitter and pitcher WAR percentages from the previous two to display the overall percentage of each club's positive 2014 WAR produced by players under team control for 2015. Fortunately, first-pass Steamer projections for 2015 have already arrived, so I summed the system's projected WAR totals for the players on each postseason team with some big league experience who are under team control for 2015.
Even though this is a different method of assessing team strength for 2015, the Angels remain in pole position, with the Cardinals in their slipstream.
Yes, some of my picks are very dumb, but get the hell out of here with these Josh Donaldson and Jose Abreu predictions.
As recently as last week, I was sure the Mariners and Angels were the two best teams in the West … so sure that I made those picks in the ESPN-wide survey.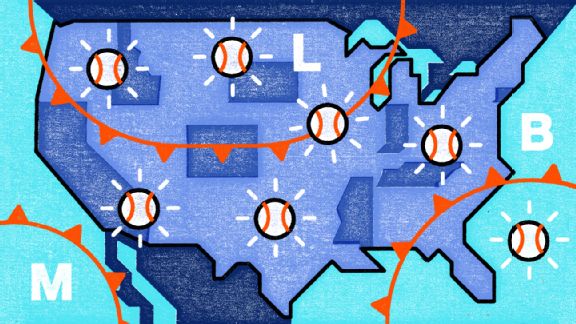 It will be difficult enough to predict 2015 playoff teams accurately on the eve of Opening Day, so to attempt it before this season officially ends — when we don't know where free agents will sign, what trades will be made, how injured players will progress, and who'll win more playing time by having a hot streak in spring training — is just asking for an article that will look silly in retrospect. Baltimore is the only team with less than 75 percent of its 2014 position-player WAR tied up for 2015. They have the strongest projected 2015 pitching staff among this year's playoff teams, and re-signing Asdrubal Cabrera would be an expensive but satisfactory solution to their second-base hole. Louis CardinalsThe Cardinals had the best record in the majors in 2015 and have a legitimate claim that over the course of the 162-game season, they were truly the best team in either league. Led by Abreu, Sale, a crop of new signings, and loads of exciting prospects, the Pale Hose will be 2015's feel-good story, making an improbable run all the way to the Fall Classic — only to get snuffed out by the ominous inevitability of the Washington Nationals. Boston's Rusney Castillo is another strong candidate in what could be a deep and exciting rookie class, but Sanchez looked polished (27 strikeouts, 14 hits, and one home run allowed in 33 innings) in his 2014 MLB debut, and he should get plenty of chances to thrive after Toronto lost Marcus Stroman to a knee injury. The Cubbies could contend, but I think they're a year away from a breakthrough, which gives them the potential for the game's highest hype-to-regular-season-success ratio in 2015.
Similarly, letting some prominent players leave might not be a big blow, depending on their projections for 2015.
But the Flying Neckbeard of Chavez Ravine is so obviously a step ahead of those guys in terms of talent and track record that picking anyone else would be a desperate act of trollish clickbaitism in which I made a prediction I didn't really believe in to make a point. That means we're almost certain to see more shifts in 2015, and maybe we'll also see some hitters stop being so stubborn. So, briefly, before the unbeatable Royals resume their run, let's turn our attention to 2015.
Place your cursor on the red or blue portions of each bar to see 2014 WAR totals and 2015 WAR projections for each team's pitchers and position players, respectively. The Nats might spend more of this winter thinking about extensions past 2015 than the upcoming season, since Ian Desmond, Doug Fister, and Jordan Zimmermann are all slated to hit the open market at the end of next year. The Cardinals will almost certainly enter 2015 as NL Central favorites again, unless Adam Wainwright's on-again, off-again postseason problems presage a second UCL replacement.