Minka Aire Concept II 52 Wet Ceiling Fan F574-BNW in Brushed Nickel Wet - Guaranteed Lowest Price.
Shown in Picture: Minka Aire Concept II 52 Wet Ceiling Fan Model F574-BNW in Brushed Nickel Wet.
Included Control (MF-WCS212): The WCS212 AireControl® Full Function Wall Control featuring 3 speeds in forward and reverse as well as a full range light dimmer.
Hugger fans are excempt from EPA required performance testing, so data is rarely available for hugger fans. Downlight Description Integrated 100W Halogen light fixture with amber pietra glass for oil rubbed bronze models and white opal glass for brushed nickel and white models. MULTIPLE GLASS OPTIONS: If there is more than one replacement glass option and the glass is not specifically referenced to the fan finish, please call us to place your order. FREE REPLACEMENT GLASS: If you purchased your fan from us in the past 5 years (on or after March 31st 2009) and have broken your glass, we may replace it FREE OF CHARGE based on our 5 Year FREE Replacement Parts Plan.
This label is required by the FTC to be publishedby any company selling this fan on the Internet. The Minka Aire Concept II 52 Wet is UL Listed for Outdoor Wet Locations, which means that you can install it outdoors in uncovered or partially covered areas where it will be directly exposed to rain. A Quality Rating of 4 is above average, the Minka Aire Concept II 52 Wet ceiling fan will run smooth and quiet and will give you many years of operation with no worries of the motor burning out.
This is above average when it comes to ceiling fans, so you can expect to feel a decent amount of cooling breeze, but it is not the best. Aside from Quality, which accounts for smooth quiet operation and durability, the amount of wind-chill a fan can provide to cool you off is the most important consideration.
This fan should allow you to raise your thermostat by 1 or 2 degrees to save between 5% and 15% on your cooling bills (if you have AC).
Use the calculator below to estimate just how much it will cost to operate this fan in "Your home".
Ceiling fans cool you off by creating a wind-chill effect, so the more wind speed a fan generates, the cooler it will make you feel. Basic Help: Our operational cost calculator estimates how much it will cost to operate the Minka Aire Concept II 52 Wet ceiling fan.
The wattage of the fan is already included (if it is known), but you can change it if you wish to see how the wattage affects the cost. When comparing fans of different sizes with varying CFMs, it is important to consider the wind speed in order to know which fans will make you feel cooler. Download Specification Sheet About Minka Aire Minka Aire offers a comprehensive and exciting collection of ceiling fans. Product must be in original, new, uninstalled condition with all original parts, tags, and packaging. Sign up to receive emails from Lightology highlighting our latest products, special offers and events!
Requiring 75% less time to assemble than the conventional ceiling fan, the Minka Aire Concept I 52 in. Pay particular attention to the "Breeze Rating" and "MPH or Wind Speed Factor" which give you the best idea of how much cooling effect you might expect from this fan.
This may indicate that the manufacturer may have modified the glass since the first production run. Please call us so that we can verify that you made your purchase from us and that your glass is in fact broken (email us a picture of your fan and broken glass).
However, most people are used to average ceiling fans, so if you have never experienced a fan more powerful than this, you may be satisfied with the Minka Aire Concept II 52 Wet. Ceiling fans can save you a lot on your energy bills if you use them properly to reduce your use of central air.
The cooler your ceiling fan can make you feel, the higher you can raise your AC thermostat to conserve energy without sacrificing your level of comfort.
By default, the calculator assumes that you will leave your fan running 24 hours a day for the entire year (which is not very likely to be accurate), so you will want to change the hours and days to be more in line with how often you think you will use the fan.
If you add a light fixture to the fan, you can add the wattage of the fixture to the wattage of the fan to perform calculations with the lights on. It is more important to buy a fan with higher CFMs than it is to buy a fan that uses less electricity. Available in Brushed Nickel with Silver blades, White with White blades, or Oil Rubbed Bronze with Taupe blades.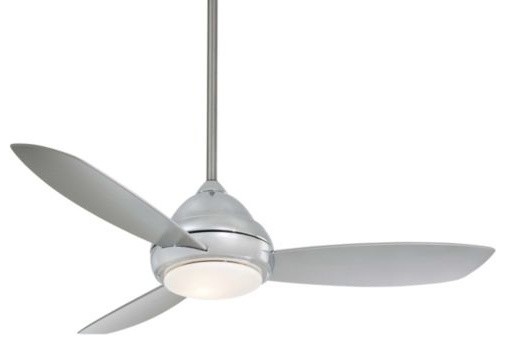 Minka Aire manufactures ceiling fans that offer an unparalleled combination of form, function, and design. This control is also compatible with the optional RCS212 remote control (sold separately), should you decide to operate the fan from a wall control and remote control. In such cases, we must know the Serial Number of your ceiling fan to determine when it was produced in order to get the correct glass.
Once verified, we will get you a replacement at no charge (just another advantage of buying your ceiling fans here at Hansen Wholesale). As with all outdoor ceiling fans, you can also install them indoors in any room that you desire.
Raising your thermostat by 10 degrees can save you up to 40% on your cooling bills, but you cannot raise your thermostat by 10 degrees if you focus only on ceiling fans that use less energy rather than ones that generate higher wind speed.
In some cases, when a light fixture of known wattage is included with the fan, the option to calculate with or without lights will show automatically. The highest wattage consumed by the most energy guzzling ceiling fan on our website is about 120 watts. Choosing a less powerful fan because it uses less electricity can be the worst mistake you can make because it will not cool you off enough to allow you to raise your thermostat to a high enough level without becoming uncomfortable. To put this in perspective: A typical central air system uses about 3500 Watts when it is running, so if a ceiling fan that uses 100 watts allows you to raise your thermostat a couple degrees higher than a more "efficient" fan that uses only 50 watts, the savings you will get by raising your AC therestat a couple degrees higher is far more than the difference of 50 watts between the two fans. You can change this to use the average cost of electricity in your state, although this may vary widely from city to city. So if you input 120 as the fan watts and run our calculator, you will see that it still costs less than 2 cents per hour to operate the most energy guzzling ceiling fan in most states. Optional accessories include blades in dark maple or dark walnut finish, downrods in 12, 18, 24, 36, 48, 60 or 72 inch lengths, and are sold separately. With that said, a ceiling fan that uses less watts yet produces higher wind speed is a win-win.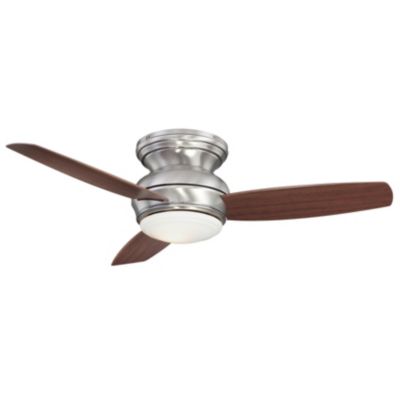 Comments to «Concept i 52 in. ceiling fan with optional light by minka aire»
ElektrA_RaFo writes:
19th-century artistry with 21st-century design and innovation the blades and.
LiYa writes:
Support to reduce the power bills connected order the blades or even communicate flow.
Azerinka writes:
And debris by making use the fan blades are created.