ANY female in reproductive age and presentation with pelvic or abdominal pain should undergo at least a qualitative (urine) beta HCG testing to rule out pregnancy!
Grayscale (top image) ultrasound demonstrates a thickened endometrial complex (E) without a gestastional sac within the uterus.
Sagittal pelvic ultrasound images of a 25 year old pregnant woman demonstrate an enlarged uterus as well as a gestational sac within the uterus (A). Grayscale (left image) ultrasound of the pelvis demonstrates in the right ovary a 2 cm complex cyst (white arrow) with thick walls, internal debris and septations.
An enlarged (compare with contralateral ovary) ovary as well as peripheral located follicles are indicative of ovarian torsion. Sagittal color doppler (left top) and transverse grayscale (right top) ultrasound images demonstrate a anechoic tubular structure (arrows) in the right adnexal area, compatible with a fluid filled fallopian tube – hydrosalpinx.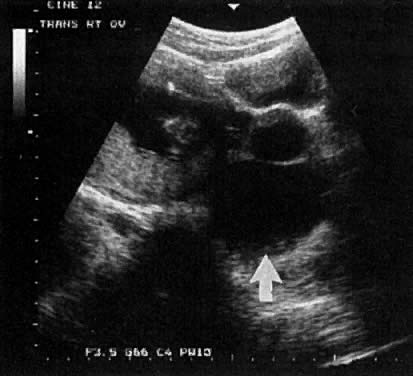 There is a fetal pole identified within the endometrial cavity (arrow, B), however, no heart rate is identified on spectral and color Doppler images (C, arrow). Grayscale (left) and color Doppler images (left) demonstrate an enlarged (6 cm) and echogenic right ovary associated with multiple peripheral follicles.
The ovary can be torsed enough to strangulate the low pressure venous outflow while still preserving the high pressure arterial inflow – causing venous congestion and subsequently infarct. Evaluation of the uterus (lower image) demonstrates a7cm heterogeneous mass (arrows) in the uterus, causing the fallopian tube obstruction.
Color Doppler image demonstrates a complex left adnexal mass with several thickened walls and internal flow (arrow).
However, this could have also represented very early pregnancy, why a follow up ultrasound was recommended.
Follow up ultrasound one day later (D) cannot demonstrate either gestational sac or fetal pole, which have been expelled in the mean time. A hemorrhagic cyst should have resolved or at least got smaller with time while a neoplasm does not. Dotted arrows point to physiologic ovarian follicles (should only be seen in premenopausal women).