Tulip Maternity Dress (Bijou Blue) - Maternity Wedding Dresses, Evening Wear and Party Clothes by Tiffany Rose. Our Tulip maternity dress is always a favourite for day or evening, with its sleek tulip shaped skirt.
Ultra soft breathable jersey enhances every curve as your figure alters, with a plunging cross-over neckline to draw the eye to the satin sash and emphasise the neat empire line bust.
Three quarter length sleeves are perfect year round to highlight a dainty bracelet watch, teamed with pretty nude or metallic heels. I was very happy with the quality of the fabrics used, with the way the dresses were done and also with the fact that the order arrived extremely quickly and without any problem. Willow Maternity Dress (Midnight Blue) - Maternity Wedding Dresses, Evening Wear and Party Clothes by Tiffany Rose.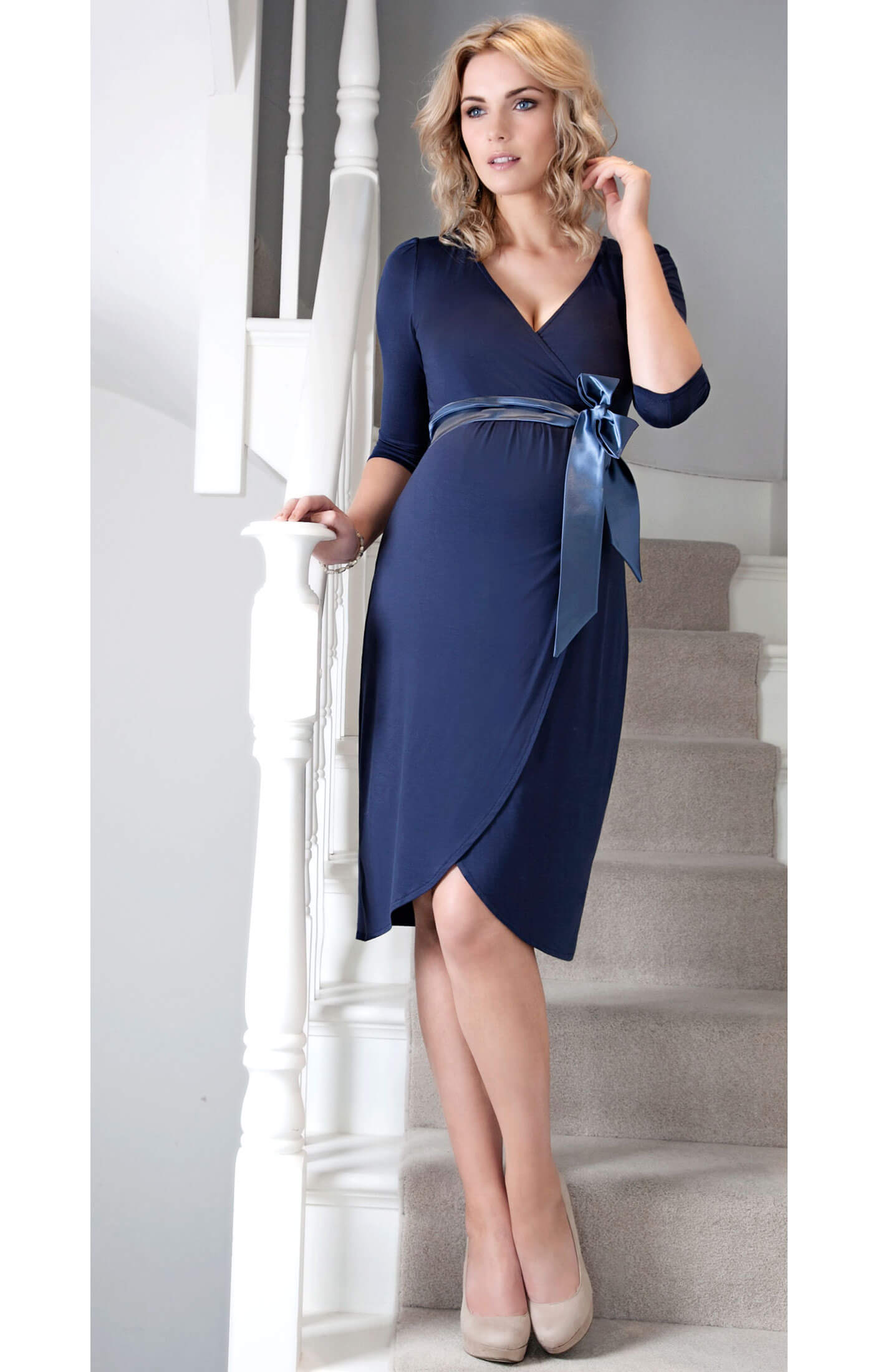 Made from softly draping shimmering jersey with added stretch in midnight blue - and a matching shimmering sash.
Our Willow V neckline maternity dress is fully lined, fabulously comfortable and a dream to wear for all occasions. The lovely wide neck to the front and back of the dress shows off a sexy decolletage and helps to nip in waists for a smoother form.
You'll adore the softness of this versatile dress with ? sleeves to showcase a glistening bracelet.
A soft, dusky new shade of Bijou Blue is perfect for autumn, with its warm tone and contrasting slate blue sash. A feminine faux wrap knee length skirt is so versatile for every day requiring minimal enhancement with a discreet accent piece of jewellery for a special occasion.
Wear on or off the shoulders, with gentle drapes smoothing down over your bump for a flawless silhouette. The quality is decent enough, it does seem a bit over-priced for such a simple dress, but with such limited choices in maternity dresses I was reasonably happy with it.