Our community is moderated by our moderation team so you won't see spam or offensive messages posted on our forums. I originally planned to wait until I was pretty sure things were okay and then I planned to wait until Christmas, but no way no how am I holding out that long. I don't exactly regard Wikipedia as a scientifically factual website lolBut thanks for the read! I know that EPF is real and present shortly after fertilization, days before implantation, but nothing I've read says that it is symptomatic, only that it is an immunosupressant. The material on this website is provided for educational purposes only and is not to be used for medical advice, diagnosis, or treatment, or in place of therapy or medical care. This Site and third parties who place advertisements on this Site may collect and use information about your visits to this Site and other websites in order to provide advertisements about goods and services of interest to you.
Ovulation on CD 16 which is normal although this cycle I had way more EWCM which has usually been a problem for me. 1 DPO- Normal ovulation twinges and pain although the pains from 1-6 dpo were on both sides this month. 3 DPO- Big time jump in BBT this morning of almost half a degree from the previous day and a full degree higher than coverline. I was addicted to this forum when TTC and so thought I would add my story for others to have something to do while going through the dreaded 2 week wait! One thing that was really noticeable and made me wonder was the lack of spotting before my period. Now I'm 12 weeks pregnant at the end of my first trimester and have my first scan at the end of the week.
Anywho, we've been trying for over a year and a half now, and I probably only ovulated 7-10 times. 2 cycles ago I purchased the Clearblue Fertility monitor, and decided we would give it a go before going to see out doctor. Lo and behold, almost a month later, I begrudgingly took a pregnancy test because my boobs had been sore longer than normal and felt sort of full. The Dr has had a hard time trying to figure out exactly how far along I am, since my last period would indicate that I'm about 13-14 weeks pregnant. I still can't believe that there is a baby in my belly, since we have been hoping for this for quite some time now.
I just got my BFP yesterday, which was I think 12 DPO (I'm going off of an app I use on my phone that supposedly tracks my cycles), and I tested at night with a Walgreen's brand digital test. 6 DPO - Noticed some pretty sharp pinching around my ovary area, kind of felt like ovulation pain, thought maybe I was ovulating late.
As I wasn't paying much attention to dates etc I can't say what dpo etc I was (sorry!) The only other thing to say is that I started a new work out this month so was doing a lot of exercise - might be a coincidence but worth mentioning!
Hope this helps someone, especially the bleeding bit as I trawled the internet trying to make sense of it! Convinced that something weird was going on but that I was definitely not pregnant on CD33 I got a FRER and took it mid afternoon certain I wouldn't see anything because the ICs were so light and it wasn't FMU. 5 Weeks in and my symptoms are strong, I feel really good about this one (unlike the CPs where I had no symptoms). We'd love for you to send – nay, we simply MUST HAVE – your BFP by DPO story, assuming you were detail-oriented (nice euphemism, huh?) enough to record your symptoms on a daily basis. If you're anything like me, you've just spent the last week stalking Google and YouTube which led you to here looking for even more tww symptoms or BFP success stories.
After reading through so many posts here I realized that there are other women out there with minimal tww symptoms as well. I should also mention that I had an HSG last month, so this was my second cycle of the so-called "heightened fertility" that can be a side-effect of that test.
Now that I'm paying a bit more attention, I feel some tugging and pinching just beneath my belly button, and my cravings make much more sense.
9 DPO: Some breast soreness in the evening, thirsty most of the day even though drinking plenty of water. Short story here was with my ex for 5 years, after 3 we talked and i got off the BC and we left it in gods hands at that point! I wanted to share my BFP story in hopes of giving someone hope abd motivation like this website has given me. I had an MC at 15 weeks in march, my DH and I were heartbroken but wanted to keep working on our now rainbow baby! CD 24- 30: negative opk, felt like we missed out since we only had the chance to get at it once sp bd every other day without giving it a lot of thought. I found it strange that I kept getting blazing positives non stop and I've read a lot about the fact that if opk stays posituve for longer it could indicate pregnancy so decided to take HPT without any hopes and guess what faint positive, not a squinter. Next day (today) took more hpt's including the digital all show BFP and significantly stronger then yesterday! My husband an I ttcd for 16months and of the last 4 months of that I was taking 1500mg metformin and finally fell pregnant with our beautiful daughter Matilda. I was taking 1500mg slow release metformin and began my first round of Clomid 50mg when I was 5months post partum.
There was no reason to take the tests because I had no symptoms and it was over a week until my period.
That day I got in to see my doctor and she confirmed with another urine test and a blood test!
It is still very early (only 4 weeks, 13DPO, CD29) so I am not getting my hopes up just yet but the symptoms are slowly showing up. Each of our message boards is hosted by JustMommies hosts, whose names are listed at the top each board.
I felt it with both my miscarriage and dd and I'm almost positive I'm pregnant now! 4 months ago in June we were pregnant after a year of trying only to find out that it was ectopic and I ended up losing my left tube :-( Furthermore while they were operating they said my right tube was "clubbed" and so they tried to unfurl it but basically said to plan for IVF because time was ticking and my eggs were aging. I figure my hormones must really be raging this cycle because my BBT is extremely erratic pre-o and all reproductive signs are kicking!
Today was also when the first abnormal cycle symptom occurred which was a huge increase in my appetite!
My back really started to ache today in the lower area but I've been cleaning because in-laws are coming in a few days so unsure if it was a "sign". Full of energy and have breakfast cooked and house cleaned before DH's feet hit the floor out of bed at 7am.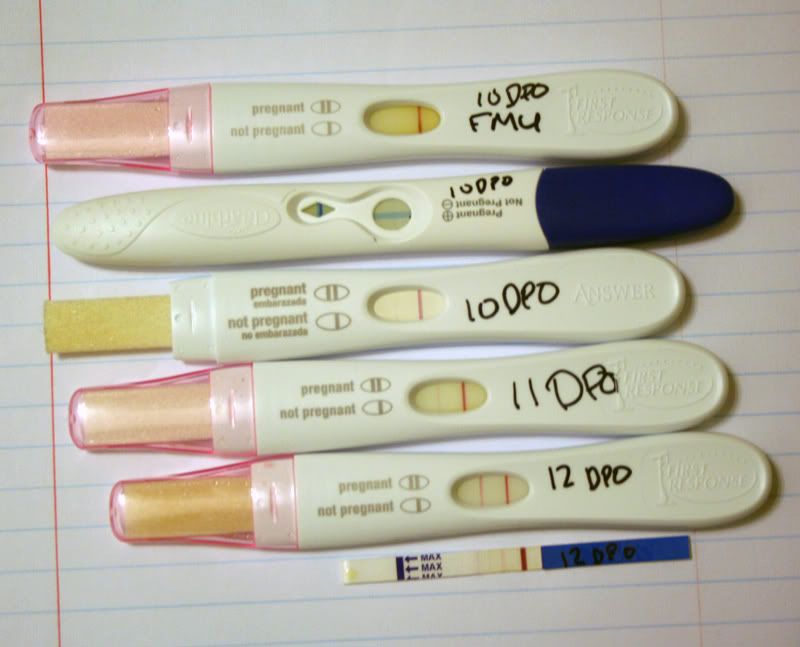 It doesn't sound like long but when a few months have past and yet again you're faced with the wait, it feels like an eternity. I usually spot from a anywhere between a few days to 10 days before my periods but there was nothing this month except the plantation bleed which was so light and pink (unlike my spotting). I used it for a 2 month long cycle (and used up all my sticks!) and we didn't get pregnant. I know that waiting is SO hard, and it breaks your heart every time you have a negative test. This time I was confident that I was pregnant when I because I had IB bleeding on Monday and I never have that before AF is due. Was happy just to get periods back even though they cycles were different each month (31 - 36 days) Decided to try opks for a couple of months but with no result (although did help me get to know ov time) so decided last two cycles to just go with my body as I had noticed I was finally getting the famous ewcm!! After back to back chemical pregnancies in May and June, I found out it was probably caused by my very short LP (8-10 days).
It unfolds slowly, like a tulip in the spring - a new symptom appearing with each passing day… constipation on Tuesday, tingling boobs on Wednesday…. I thought maybe couldn't be pregnant because I didn't have nausea, sore boobs, fatigue, increased appetite, mood swings, etc. I have always been the first person to scoff when someone tells me it will happen when I stop trying.
My husband and I have been TTC for 6 months now with a miscarriage in week 6 of our second month of trying. I shrugged it off thinking that if my breasts were sore again tomorrow then I'll take a pregnancy test.
First cycle didn't happen for us so I got some OPKs downloaded an app and was determined to succeed.
Yes, like she said, EPF is emitted after conception and can be detected within hours, but just because it is present does not mean it causes the symptoms women obsess over.
Financially we weren't sure if we could do that so I started charting religiously and using internet cheapie opks to make sure we made each month count. I was particularly tired his evening and so DH took pity and ordered cheese steaks from our favorite place. Also I had copious amounts of creamy cm today-figuring all bodily fluids are go this cycle and try not to get too excited yet. I usually don't get weepy at all so I thought maybe this was a symptom but thought maybe this was a by-product of my abnormally hormonal month I was already having.
More vivid dreams, more stupid acne, more dull cramping and a sharp zing in my left breast that made me say ouch out loud and grab my boob. I felt like that scene in There's Something About Mary when Magda has the couch held up with one hand and is vacuuming under it with the other. This will be another chemical I am convinced but I have a MASSIVE headache and so try to stay patient and wait 4 hours to test.
In fact, I had discussed with my husband that we'd just start 'trying' again in the new year and I'd focus on my career until then.
After 4 months of trying I had given up and booked to see a specialist in the new year (I thought my spotting and my bad period cramping my have been hampering our efforts).
I've made a few posts, but mostly read all about other ladies- it's comforting to read about people in similar situations.
I started again on my 2nd cycle and ran out of sticks as soon as the fertile line bumped up.
I'm a woman of Faith and I prayed every day for God to give me my desire which was BFP and I just believed it and I claimed it and it finally happen. I have a 32 day cycle, between ovulation and AF is horrific and painful for me (I have PCOS). When she was one we started trying again, three years later and some failed IUI's we went and met with a new RE. Oh, and I also want to add that I only held my urine for about an hour and a half or so before I tested. My LP was making steady progress getting longer (by September it was up to 12 days) and then in October it backslid to 7.
He sent me for a transesophageal ultrasound to determine the size of the hole which would decide whether I needed open heart surgery to repair or a heart catheterization. They were unable to determine antrial follicle count because my cysts are so large they couldn't see any eggs in the ultrasound. Just hoping to reassure someone out there that if you think you're pregnant, don't test too early, but don't be discouraged if you don't have a long list of symptoms. I have an idea of when I ovulated because it's the FIRST TIME in this long journey that I've had anything even resembling EWCM and I got super frisky.
It feels better this time with my symptoms getting stronger each day (ie more breast soreness, more food cravings, and I'm even welcoming the mood swings!).
I moved out of state with my 7year old daughter and 6 year old son (not my exs) decided i wanted to hate everything man!! No wonder you did not give a clear answer about when you were going to start ttc again I'm so happy for you! I have lengthened my luteal phase from 9 to 13 days with Vitex, B complex supplement, progesterone cream, and other vitamins.
Even had a painful one down there (sorry tmi) that surprised me that seemed to be at they're worst the day after ovulation. I housed my whole sub and a bag of chips which i've never done and he was sad he didn't get any of my leftovers lol. I was full of energy ALL DAY and was cleaning until midnight when DH insisted I consider sleep as an option at some point. Also with both this pregnancy and my ectopic I started getting up really early 9 dpo and on. I totally put the baby making out of my mind and had resolved to work on my career until the specialist appointment.
At the end of that first cycle of acupuncture I had heavy bleeding with clots one the size of a nickel. I was at that point convinced something was wrong with me, I must have fertility issues - I was sure of it.
So, please keep in mind that these DPO's are rough estimates, since I cannot say for absolutely certain the day I ovulated. I used the Clear Blue Easy with Weeks Estimator and it said I was 1-2 weeks since ovulation, which is right on.
Also, I started spotting around CD 35 last time and had implantation bleeding, but haven't had any of that this time. Those same symptoms can be observed prior to implantation because the same hormones are present, but they can occur whether pregnant or not and are not necessarily due to EPF as OP seems to be suggesting. Got up anyways as I was restless all night and POAS and thought maybe a faint bfp on my Wondfo? Cats won't leave me alone either which is another interesting note from both pregnancy cycles. I didn't check my ovulation calendar or anything this time and the only time we 'did it' was when I felt like it. Also, there was one day where I was extremely tired, more so than I've ever felt, out with my SIL, who was about 8 weeks pregnant at the time! I've been trying for 6 cycles and nothing happen which was discouraging every time I saw a BFN so I started to believe I couldn't have anymore kids because I already have 3 kids but in wanted one more. Not wanting to have the gloom of trying and failing hanging over us the holidays my husband and I decided to stop trying for November & December and get an appointment with a RE after the new year. That's why two women can have breast tenderness, nausea, and fatigue and only one of them be pregnant.
Didn't wan't to get too excited as I've had 3 of those and they were all chemical pregnancies :-( Watch an old Disney movie and full on cry-this is what really made me think something was up. Several weeks after that, my SIL found out she was pregnant (again, this would be her 2nd child during the time we've been trying to get pregnant). And we weren't using any of our special stuff because we were just waiting for that 2 month mark to get started on our infertility.
I suffer from Anemia so I begin to take a prenatal vitamin with Folic Acid but that didn't work. I have always have had irregular period due to PCOS, but for the last year I have been taking a product called Farrows Inositol to help with my PCOS, and it has been the best thing for me ever!!! I had some symptoms this month that were definitely different than previous months, which is why I tested. Another persistent symptom is breast soreness and fullness, as well as very sensitive nipples.
If this were any other cycle, you would have known how I was feeling down to the minute during my 2ww, but this month I tracked NOTHING. Felt fine overall with no side effects except drowsiness which wasn't too bad since I took it before bed anyway. I suppose it was all about timing, and maybe since we sort of "gave up" it happened, though I hate to say that. So I decide to get treat off my anemia which I started taking the first week of November and I believe that was the cause for me not conceiving.
The sono before my dr could already tell I was going to overstimulate, so she told me we would have to freeze everything after they took the eggs. I've been dealing with PCOS type symptoms for almost the last year, so I've been pretty regular with the cyclical pain that comes in the middle of every month, and my cycles range from 29 to up to 45 days. I was exhausted, with extremely sore arms and legs, but since I had been working out all week I didn't consider it much. Also, a friend of mine undergoing fertility treatment says her doctor swears by 1200 mg CoQ10 vitamins, so I've been taking that each day, too, beginning at CD 1. Good luck to everyone ttc and keep the faith as I am fertility handicapped but managed to get to this point and should give hope to others hopefully! I did the whole grape juice, pineapple core, blah blah during the time I thought I might implant.
Thinking back, I was also experiencing headaches(uncommon) and had a decrease in appetite but no real indicators that I could possibly be pregnant. But still in disbelief as we had only been trying for 2 months (this is our 2nd month) really thought it would take longer as this is our first. Sometimes we as women can wonder all kind of things being wrong are what's the reason because I was told that I may have had PCOS with I didn't because they ran all kinds of test.
It took nearly two years to conceive my daughter, but using inositol I have conceived twice in 5 months.
My period can be a little off sometimes so I'm usually a little confused about exactly when I ovulate.
I didn't notice the fullness until about 11 DPO, and it was like it just happened overnight. So I decided to wait until AF was officially atleast 3 days late and tested again this morning and the test said 2-3 weeks.
I'm believe it was my Low Blood that kept me from conceiving but something as simple as that.
We did use Pre-Seed, but we started it pretty late, and I think it happened before we even used it. I'm here to tell you ladies don't give up, keep trying, and keep the faith because it plays a big role in it. I haven't used OPK's or charting, I am pretty in tune with how things work, and I have obvious ovulation signs, CM and pain. Dr said that if we didn't conceive in 2 months, she would retest and see if the thyroid levels stayed the same.
This month, after ovulation I had no symptoms what so ever and I thought it was just a weird cycle and thought for sure when I started spotting the day my period was due (3 days ago),I was out for the month!! Then on day 26 I didn't have my usual premenstrual spotting so the next morning I took a PG test and saw an incredibly light positive line or evap? The first Beta came back at 103 (10 days after transfer) and the last one I had was 7011 at 18dpt.
Then had a BM and afterwards chunky brown mucusy stuff and spotted again brown when wiping later in the day. The next day I take another test still slightly darker line, but not solid pink like the test line - like the one I took with my first baby. Please know that I did not do anything other than what my RE said, I never ate pineapple anything, never kept socks on my feet, etc. IVF does and can work, and its such a blessing we live a this time where we have this as an option!