Some of the best memories of summer are those of lazy evenings spent with friends and family, enjoying a meal with good company and good food in beautiful weather. Here's our fabulous guest Heidi with a great detailed tutorial to show you how to build the patio table! There are several plans circulating on Pinterest, but we felt we could improve the design to create a more durable, solid product that could withstand our brutal weather cycles. If you like the benches we built to accompany the table, pop over to our blog, Kruse's Workshop, for additional instructions on how to build them. The first step is to build a box to support the lip of the ice box so it can't drop out of the table. Now we need to build a frame that will hold the ice box supports and act as extra bracing for the table top. When your frame is built, wiggle the ice box support out of the middle, you may need to loosen a few screws to set it free. After the frames are built, it's time to attach the ice box support (the small box) to the ice box frame (the large one).
Once your ends are all perfectly flush, use the same procedure as above with the clamp, using it to hold your pieces of 2×8 flush with one another as you screw the pieces together with the Kreg screws. Since the entire under body is built, it's a great time to lay your table top above it to see that everything is lining up.
To attach the legs, we are going to build some diagonal supports that attach to the skirting, then the legs will be bolted to this diagonal support.
Turn your chop saw at a 45 degree angle and cut each end so that you end up with a piece like this. Working with the same small block of 2×4, find the exact center of the piece at 4 inches. About 15 minutes after I applied the wood conditioner and wiped off any excess, I applied a coat of basic interior oil based wood stain with a foam brush. After the stain was dry, I applied three coats of this water based spar urethane, sanding VERY LIGHTLY with a fine sanding sponge in between coats. There's plenty of room in the very center of the table to add a hole to accommodate an umbrella.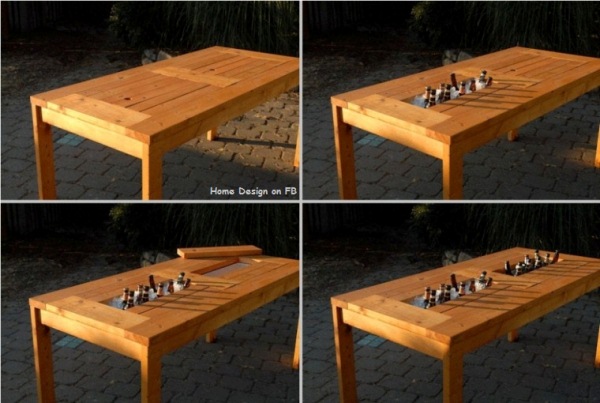 Spruce up your deck with a clever DIY patio table that also keeps drinks cool and within arms reach. Alternatively, you can hack a picnic table with a gutter to hold the drinks, but this is a more attractive solution. Get your backyard ready for entertaining with a few projects, and yours will be the house that everyone loves to come to! Our guest today has an awesome patio table building plan for you. And it has a secret that your guests will love: built-in ice boxes, perfect for keeping your drinks cool! This is an important step, as it will allow the lid that will eventually cover the ice box to sit flush with the rest of the table.
Now you can surprise your friends when come for a beer or a wine with this innovative idea.