Justin Wotring, a Michigan transplant currently residing in California, has been brewing for three years, is a recent AHA member, and an active member in the Addison Homebrew Provisions Club of Fullerton, Calif. When I brought my new kegerator home it was kind of an eyesore sitting in the unused corner of our condo, so I brought up the idea to my wife about building a bar around it. The center of the bar features my three tap kegerator, the right holds my compact refrigerator for bottles and mixers, and the left has a shelf for brewing books, magazines, and miscellaneous bar equipment, as well as a mounted bottle opener. The plans show you how to build the bar as shown, and how to build the opposite configuration (Kegerator on the right side and short leg on the left). The ends of the bar are designed so that the bar can be placed against a wall where space is limited.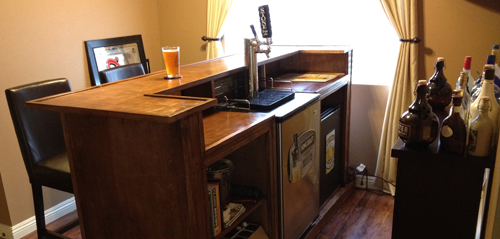 Plans include an optional four tier removable wine bottle display rack for up to 16 bottles. You can build the bar as shown, or build the opposite configuration (Kegerator on the opposite side). Constructed in 3 sections, this bar can be unassembled, relocated, and reassembled if necessary. After his wife gave him the OK to purchase a kegerator, Wotring claims his homebrewing life changed forever. It's a great feeling to come home from a long day at work and sit at my own personal bar with my homebrew on tap and watch some sports.
Since I had absolutely no woodworking experience, I began scouring the Internet for bar plans. Add two barstools and a 10″ table saw, and the total cost of the build was around $900.
Since Justin didn't have to spend as much time in the bottling process, he had an opportunity to bring his kegerator to the next level by constructing his own bar to display the three taps.