Wood carving - a varied artWood carving - a varied art In addition to agriculture, arts and crafts were also well developed in Val Gardena by the Middle Ages, and the craftsmen of the valley had a fine reputation for their skills and diligence. Val Gardena Arts and Crafts Exhibition - ART52Cultural Center - Ortisei52 exhibitors welcome you!Here you can admire handcarved sculptures and art-paintings by craftsmen from Val Gardena and locally produced carvings. The wood carvings from Val Gardena are world famous and witnesses of a centuries old tradition.
The wood carvers of Val Gardena produced their products in the winter months at home and brought them all over the world to sell them.
The selection of offered wood carvings from Val Gardena is varied and ranges from wooden cribs and figures to holy figures and reliefs to various gifts articles.
The Christmas valley in the Dolomites!The Christmas valley in the Dolomites! Val Gardena is the place to be if you want to experience that special feeling in the air which comes right before Christmas. They produced thick loden clothes, turned wooden bowls, and the women later made lace as well. Cristina and Selva you benefit from a wide range of sacral and profane handicraft products from local sculptors and artists. Part of the magic lies in the countless attractions which make Val Gardena just that bit more christmassy.
In the course of the 17th century the Val Gardena wood carvers concentrated more on works of a figural type, while some of them produced caricatures, picture frames, ornaments, animals, nativity scene figurines and children's toys.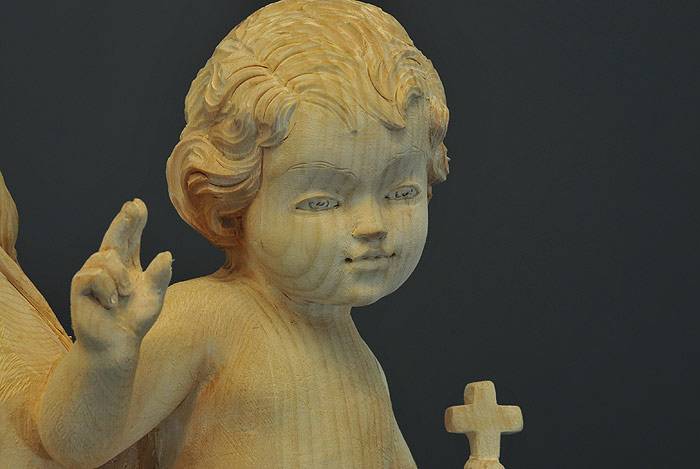 By the 18th century Val Gardena was a major centre of wood carving, and pedlars and merchants carried the carvings and the name of Val Gardena far and wide. Of the many wood carvers in the valley, some developed into true artists, and in order to raise the general standard an art school was founded.
Today wood carving is a modern industry and a genuine craft at the same time, producing individual, varied and authentic specimens of the art.