Twice-monthly advice for bringing your home outdoors, from year-round yard upkeep and planning to the wonders of making your garden grow, plus special offers. I have an in-drawer block like the first couple of photos, though less fabulous (and more twenty bucks from Sur La, I think). When I work with clients to organize their kitchens, knife storage is one of the issues we tackle.
They are an improvement over anything the surrounds the blade on all sides, as they continue to work as you get new knives with different blade shapes. I don't think anything built-in is appropriate, and knife blocks take up too much counter space. The customizable piece can hold up to 19 knives and includes a bottom compartment for other utensils. Of course, people with small children will need to ensure those children can't reach (or open) the drawer.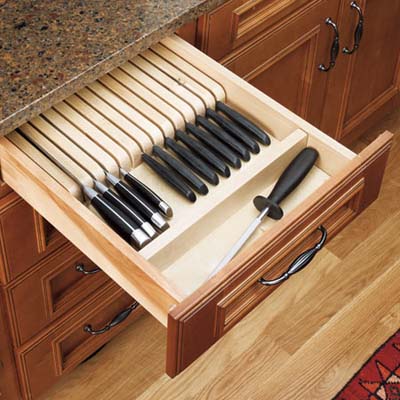 Basically, I want to first work on areas that are bothering me the most or have been on my to do list for the longest time.First up was creating a new drawer for knife storage.
Here are two alternatives: a standard in-drawer knife organizer, with slots, and a product called the the Knife Dock, which has flexible dividers made from a combination of cork and rubber.
I would have loved to just put all the knives we use in the knife block, but the nice newer knives we inherited didn't fit.
And no one will ever pull the wrong knife out of the drawer by mistake with this kind of design! I first looked on Amazon, the Container Store, Bed, Bath and Beyond, Walmart and Target to try to find a knife block that would fit in the drawer right by the stove next to my dishwasher. And the colored labels are a really nice touch.Of course, not everyone has a spare drawer to devote to knives. Fortunately, some designers have come up with clever ways to provide knife storage for end-users with space constraints.
One of those ways is creating under-cabinet storage, such as the Wüsthof under-cabinet knife block.
Using our Ryobi compound miter saw, I cut them each down to the width of my drawer.I drew lines where I wanted each cut to be to put the knives in. This one has the flexibility to handle a range of knives, except perhaps those that are extra-long. Again, this might be hard to clean—but tucked away in a drawer, the slots are less likely to get filthy than those on a countertop.