I have been working for a week trying to figure out how to mount casters on my workbench and to make them easy to engage and disengage. It's time to start assembling the frame, and we began with the workbench top (rather than the shelf). We secured another lengthwise support down the middle of the workbench (12″ on center). I used just scrap lumber, a couple hinges and casters that I had picked up some where a while back. Its an idea that was spurred by other mobile base ideas but the method of attaching the casters to the bench and the levers are something that took a lot of time for me to figure out.
This is beneficial because now any of our workbenches can act as an infeed or outfeed support.
If anyone else has built (or is planning on building) one of these workbenches, we hope you'll send in pictures so that we can feature them here. I thought that casters with stems instead of mounting plates would be hard to mount so they would be stable and strong. I know because before the liquidation of my first wood shop in 1999 I had put it on my own workbench sometime around 1994, so the mag article must have been nearly 20 years ago.
Do the same for the workbench top, and remember to put screws in the middle support as well.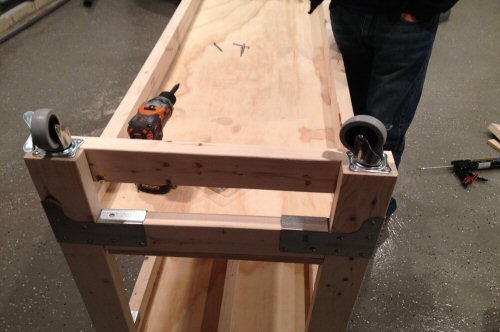 And be forewarned: I have no shortage of need for workbenches (which is a roundabout way of saying that I need more benches!).
I thought that it would take steel parts to support the stress of the cam pushing down on the casters while lifting a heavy bench.