Placing a potted plant on a table or on the floor of your small apartment might look like it is taking up too much space. Instead of planting a plant in a clay, plastic or even concrete pot, that can give your home a heavier, more closed feel, put your plants in a see-trough, airy terrarium. You like the look of a hanging planter, but it look soo insecure for your taste, thinking that it will fall from its thin net any moment.
You have an empty wall at your home that you want to fill with plants but you don't want to put shelves. Hanging plants are all nice and pretty, but you've seen so many that they start to get boring.
But, if you elevate it on a stand, leaving space underneath it, like with this lovely wooden stand, then you create the illusion of free space and the space will immediately look less crowded. To make your hanging planter look even better just add some wooden beads or other decorations to the ropes. Get a piece of wood, some of the jars, screws and hooks and by following this project you can make a lovely wall planter in no time.
Then make these tiered hanging shelves for as much potted plants as your room's height will allow. And if you happen to want to create a romantic mood, just replace the jars of plants with candles. In fact, beside holding your plants, if placed properly it can even serve as a interesting end table.
We overlook decorating with living plants because caring for them is an additional responsibility and they can take up space that we don't have. Well, after looking at our amazing top 10 plant stands DIY projects, you will become so enchanted with their simplicity, beauty and how little space they occupy that you will want to make them for your home at once. Given how retr0-fabulous it is, you'll be shocked by the easy-to-follow process involved in bringing it to life!Plant stand with Midcentury flairFor one more Midcentury-style plant stand from Mandi of A Beautiful Mess, check out this two-tiered stand tutorial, which involves the use of pre-cut wooden circles and dowels. I love that you can personalize the look with the tile of your choice:Clean-lined modern plant standThis DIY Wooden Plant Stand from blogger Elise Blaha Cripe gives you plenty of room to display an army of plants. While many of today's featured projects involve covering planters with paint, I like how the pics that accompany this one feature terracotta pots in all of their earthy glory!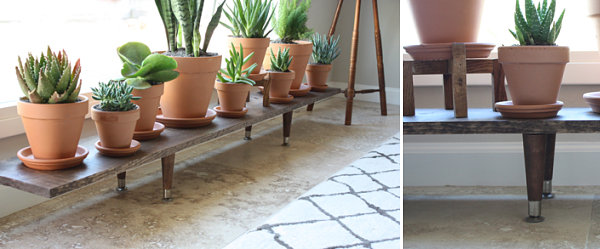 It's a DIY Concrete Planter, made from an old cabinet, Quikrete, foam insulation and a few other key ingredients. Note that this project requires some heavy lifting:DIY concrete planterI'm in love with the design on this DIY Painted Geometric Planter!
Check out the full tutorial here.DIY succulent planter projectAnd last but not least, we have this DIY Modern Hanging Planter, which works best when you use a lightweight pot to create the finished product. And if you start with a plastic pot, a Crop-A-Dile tool is likely a better, safer option than a drill for making those holes on either side!