With this DIY hand-painted wood bead necklace tutorial, you'll have a beautiful new accessory in your midst that will have you feeling stylish in no time. Before getting started, here's a helpful tip: Some beads will have wood residue where the hole was drilled. Do this for each color, making sure the wood ends touch each other and the color ends touch each other. Once all of your beads have been strung onto the chain, close the clasp and you're ready to show your DIY necklace off!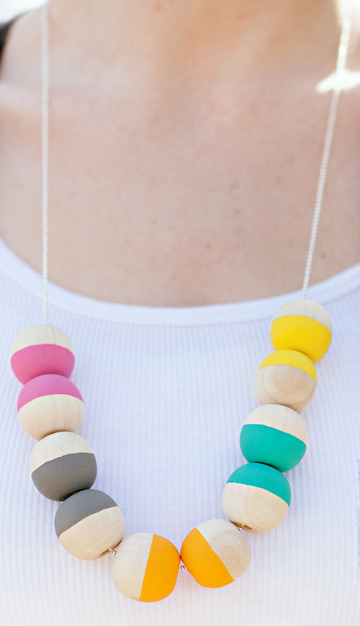 A trend that I'm loving right now is the minimal wooden bead jewellery popping up at markets, boutiques and online. You will want to paint two beads exactly the same for each color you want on your necklace. Take the second bead (of the same color) and string it onto the chain, but this time have the color side go on the necklace first, making the two color sides meet.
This will loosen any wood particles stuck in there and make it easy to string your necklace after painting.