I could see, in my mind,  The Girl sitting on the seat in the warm afternoon sun reading a book curled up with her dog. Once I had convinced Bama Boy to allow me to remodel the kitchen, my second demand request, after tearing out the non functioning planning desk, was building my window seat. Of course, my favorite part of this post is reading about your fantasies of how this window seat would make your life even more fabulous. Thanks for sharing this great tutorial, I have always wanted a window seat in my home, I think they make a room feel so cozy.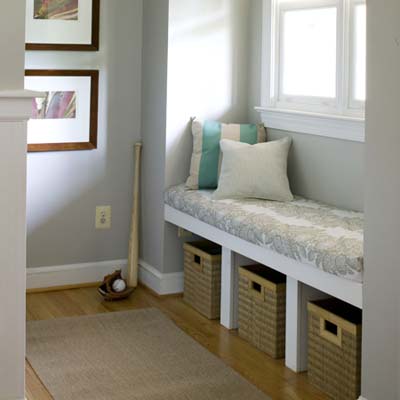 While underneath the seat resided all of my tall vases, awkward hard to store kitchen gadgets, and my three tiered cupcake carrier.
It's a favorite place for people to sit and the 8 feet of storage has not disappointed!
Well together with your permission allow me to grasp your feed to keep up to date with imminent post. I always pictured getting comfy with a good book and sitting there all day enjoying the Sweet Bliss I love the tutorial.