American basswood occurs from the most northern to the most southern portions of the eastern United States and as far west as North Dakota.
Red Mulberry has alternate, simple leaves that are very similar to basswood in shape, size, and margin.
The leaves of Eastern Cottonwood have a similar shape (and the tree has a similar name) but the margin is wavy. The tree is reaching 20 to 40 meters (66 to 130 ft) tall, with oblique cordate leaves of 6 to 20 centimeters (2 to 8 in) across. The trees are hermaphroditic, having perfect flowers with both male and female parts, pollinated by insects. It was considered a mystical tree of life, tree of health, justice tree, tree of victory, a symbol of fertility and an object of worship.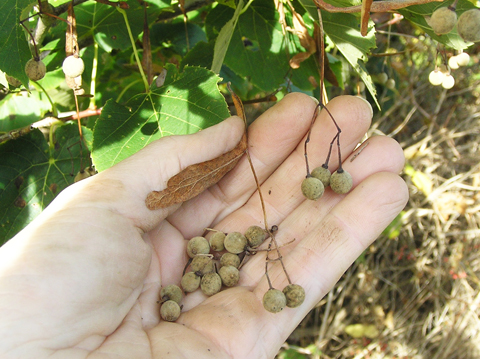 The tree frequently has two or more trunks and vigorously sprouts from stumps as well as seed.
Basswood can grow in sites ranging from nutrient-poor, rocky ridges as high as 4,900 feet in elevation to well-drained low woodlands, growing best in hardwood hammocks and moist, well-drained, loamy (fine-textured) soils of river floodplains and wetland areas.
The scent of the tiny yellow-white flowers of those huge trees that blossom in late spring or early summer, have always attracted humans as well as bees. Basswood when growing in moderate shade reaches for the sun and its lower branches, deprived of sunlight, die and self prune leaving a tall straight clear trunk. Basswood has a tendency to produce suckers from the root system especially when the main trunk is killed.
Without physical investigation of the leaves, red mulberry could easily be mistaken for basswood.