We had discussed just building our own from scratch and one day my husband comes back with the supplies from Home Depot and boom! So here are the steps that we took to build the pergola plus a few little extras that we did to snazz our structure up a bit.
Our pergola is a free standing unit but you can build one that is attached to a deck or house very easily. We decided to try and give the pergola a little more of a custom look by adding boxes to the base.
To get a taut finish for the tarp and to ensure it didn't wind up blowing off the pergola and into the pool, we screwed the tarp into the top of the frame with screws and washers.
Popular Mechanics has a 3D guide here to build your trellis if you want more visuals before you get started. We didn't actually follow the design from Ana White but I did find this after ours was finished and it is pretty darn similar to what we did with detailed directions on how to build the extra decorative base at the bottom of your posts. And if you have some more advanced skills and tools, there is a really professional quality large pergola tutorial here with video and detailed plans.
My husband and I have been doing the same as you did, looking at various plans and kits for pergolas. Elizabeth, the boards we used are 12 x 12 so the pergola is 10 x 10 size to allow a little overlap on the sides. With a living wall draped with plants and all-weather materials, the backyard pergola provides a shaded spot to relax and gather.
Thanks so much for all the love on my new Pergola!  I am so happy it's built and stained!  I am just in love with it!  If you missed any of my journey…be sure to catch up below. I kind of think of a pergola as an outside room.  For me, it gives the sense of being cozy in a "room" while still being fully outside and being able to enjoy everything about the outdoors!
I want to build some of these great flower towers to put in front of the two front posts where the small flower pots are now!
We have electricity out in the landscaping area on the right hand side of the pergola (by the flowering roses) so I am also envisioning some outdoor white lights to hang from the cross beams so that we can sit outside at night! I hope you will be inspired to sign up for The Home Depot's Garden Club so you too can make your outdoor space your very OWN!  This weekend project has been so rewarding and wonderful and I am so thankful to The Home Depot for this opportunity!  I hope you will #DigIn and get your hands dirty and try one of the many amazing DIY garden projects The Home Depot has to offer!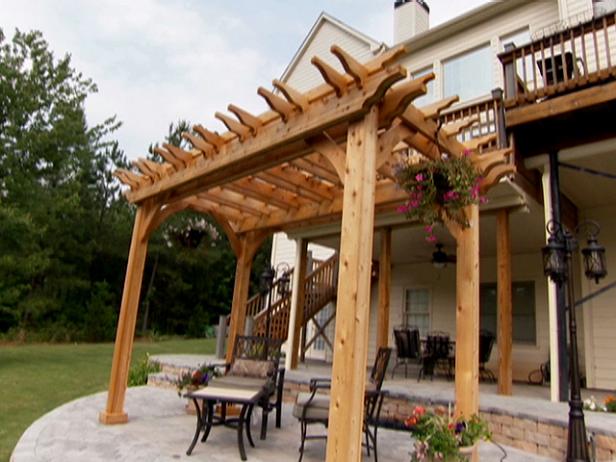 Our house already had a Pergola when we moved in but a few weeks ago my husband and I put the sun shades on it.
I've been wanting to build a pergola since last summer, but had only ever found one other post about it. The is not a "roof" so you still get rain on you!  There are no walls, so you still feel the breeze, Yet the pergola itself gives a sense of structure and definition! The sun is brutal here on the gulf coast of central FL, but buying a pergola is SO expensive.