Veritas® Low-Angle Jack Plane Our low-angle jack plane is ideal for shooting miters, working end grain, and initial smoothing. The plane's adjustable mouth can be closed to a narrow slit for fine shavings with minimum tear-out or opened for heavier cuts.
If you have never owned a low-angle smooth, you will find it a delight to use and one of your favorite planes. I am mid project building my roubo split top workbench and have been obsessing over Jim K's blog of his process.
The benefits are obvious: if your blade gets dull, you can quickly switch in a sharp one or you can pick your bevel angle for the attack you want.
I love the jack plane that's in the set and actually use it often enough in place of my smoother, though I love the smoother as well (k, maybe a tad less). My one complaint about the jointer, which I have, is that ridge they put on the sides (look at the picture of the set; the middle jack doesn't have the ridge whereas the jointer does). While there are opinions everywhere, I prefer the cambered blade in the jack since I find it makes planing diagonally or even perpendicularly to the grain far far easier. Oh, I got the A2 blades; might take a hair longer to sharpen, but the edge seems to last much longer than the O1.
I would say that Veritas are the company to go to for BU planes (unless you plan on a Marcou of course! From my priorities (which may differ from yours), the advantage of the BU range lies with the cutting angles available. Last point: the high cutting angles in the BU ranges are best created using a honing guide if you plan to camber the blades.
My real concern here is to have a plane I can use efficiently on my workbench projects tiger grain while still be useful for the rest of the chores around the shop. Anthony, I spent several hours at the LV store in Toronto this summer, taking a piece of rough 2x4 down to a smooth surface, using only their BU planes. They are fussier to use (at first) than a BD plane because you can't adjust the blade on the fly. 1) they have a long toe, so it's easy to register the plane on the board right at the start. 2) Blades are relatively cheap - they even sell blades with different primary grind angles. Personally, I'd recommend the LV BU smoother, jack and jointer, as well as a block plane and an apron plane.
By clicking Confirm bid, you commit to buy this item from the seller if you are the winning bidder. By clicking Confirm bid, you are committing to buy this item from the seller if you are the winning bidder and have read and agree to the Global Shipping Program terms and conditions - opens in a new window or tab.
By clicking 1 Click Bid, you commit to buy this item from the seller if you're the winning bidder. You will appreciate the way this plane (with a toe that is one third the length of the sole) registers to the workpiece. All of this can be done quickly and accurately with the front locking knob and the unique mouth adjustment screw.
It has an adjustable mouth with a unique stop-screw and a combined feed and lateral adjustment knob for blade setting. Its low cutting angle of 37° minimizes fiber tearing, making it ideal for end-grain work. It features an adjustable mouth with a unique stop-screw, a combined feed and lateral adjustment knob for blade setting, and a bubinga front knob and rear handle. I have bought many of the same tools his recommends(festool 1400 & Mfs template) and have decided to buy some new handplanes.
The raised sections are to lower the centre of gravity further, so they should not be seen to be an intrusion (I would not want to use a plane this length on a shooting board anyway). I started another thread to document my roubo build over in the woodworking projects section.
It seems I will only be able to afford to buy these three planes for some time now and they need to perform well across the spectrum. I started with their jack plane, went to the smoother, and then did an edge with the jointer. Otherwise I would probably go for the LV BU jointer and jack planes, and possibly the smoother (I have a LN #4). I absolutely love my Shapton stones, and would recommend them over anything else I've spent money on.
Import charges previously quoted are subject to change if you increase you maximum bid amount. Cut angles can be optimized by altering the bevel, or by switching to a blade with another bevel. This is lower than any commonly available BD plane, and the benefit is ease of cutting and a smoother surface. The advantage of the Veritas BU Jointer is (1) it is the length of a #7 but has the toe registration of a #8, and (2) the range of cutting angles (as per all BU planes) allows for the same high cutting angle.
But once the board was relatively smooth, I could work right over the knot with no tearout.
I am going to try to sharpen the scrapers tonight after cutting all the tenons on my workbench project. If you reside in an EU member state besides UK, import VAT on this purchase is not recoverable.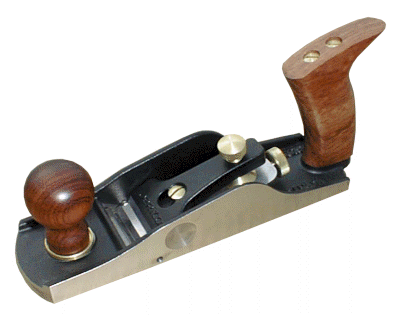 With sides machined square to the sole, a specially shaped lever cap, and the machined thumb recess on either side of the body, it provides both comfort and excellent control when shooting. The adjustment mechanism, with its combined feed and lateral adjustment knob, makes blade setting easy and accurate.
I have some nice classics that I have tuned to the best of my abilities with so so results. The LA Jack is also a large smoother or (in more traditional parlance) a modern panel plane.
In this case the avoidance of tearout on edges as you joint means that the dimensions of a piece do not change. I just want to be able to give my wood that shine it gets from a hand planed surface that I just have not been able to re-create with sand paper. I also bought the burnisher kit from czech hand tools but have yet to have a chance to turn the handle for it. The set screws on either side of the blade prevent it from shifting in use, but allow full lateral adjustment.
I was hoping someone could give me the kick I needed to make the order and get Lee Valley's LA # 4,5, & 7. I will be further investigating the recommended links you have suggested Next time dont worry about writing a boring book as the info you have just gave me has given me a bit of confidence to spend my money!
Seems these will be easier to get working and since I can switch blades from plane to plane, I could grind them all at a different angle and essesially have many different planes in three. It also makes a pretty good short jointer (if you work with smaller pieces, such as boxes).
That is true (I own and use as many BD planes as I do BU planes), but - all variables held constant - a BU plane with a high cutting angle is significantly easier to push than a BD plane with the same cutting angle.
Now if you never plan to plane with high cutting angles, then a BU plane may be wasted on you. Frankly, the best plane in the world will not outperform a mediocre plane with a sharp blade if all you work with is soft woods with straight grain. That said, the Veritas BU Smoother is probably the best smoother in the world in its price range, and can hold its own with any (see my review of the Marcou smoother).