Hundreds of years ago, the Aleuts paddled slender kayaks up and down the west coast of North America in search of sealskins and adventure. Had to take care of some business, but by 11 AM, I cut the gunwales, keel, chines, and then eat some lunch.
After I finish with the strongback, there is nothing more for me to do today because I have to wait for the scarf joints to dry, so I call it quit.
After I figure out that my shop is too short by exactly 2″? to use my strongback as set-up, I reset the forms and lay in the keel. The rest of the day is spent, drilling pilot holes, screwing into the pilot hole, gluing, and misting water. And the good news: Ilena shows up from her trip to the Cities with enough cheap vinyl to skin the kayak and enough left over to do some cheap vinyl dry bags! In an email that Tom sent me, he mentions that he had to add an extra plywood station behind the bow to secure the chines, but I find that my chines bend fine into the bow, so instead of making this form, I push the chines into the bow and then with a saw, I cut between the flat surface of the bow and the corner of the chine until the chine has a nice flat surface than mates up with the bow. I have several none kayak projects going at the moment, so today is the day I have to get some of them finished. After the paint, I decide that I want to be able to get into the kayak easier, so I attack the frame at the front of the cockpit with a jigsaw! Find HH-66 online for $12.00 a quart and I order some, and then off onto the round town trip to see if I can find some channel iron aka Glen Smith Style Foot braces.
The HH-66 took a couple of weeks to show up, and while it was showing up, the ice melted and I headed off onto some lakes, and then Lake Superior called, so my free time was spent paddling there also. We waited a week for the perfect lighting and picture conditions before launching, and it just didn't seem like they were going to happen, so on a windy Saturday with gusts up to 30, we headed up to Devil Track Lake to put in. Ilena didn't feel like paddling in the gusty winds (up to 30 mph), so I went out for about an hour by myself. Bryan Hansel is a freelance writer, award-winning photographer and an American Canoe Association L4 Open Water Coastal Kayaking Instructor.
I was thinking about building one of these kayaks myself but came across your website and was curious to why you decided to sell it, I noticed you said it would make a good decoration. Go light; the lighter the better, so that you have the simplest material for health, comfort and enjoyment. I have dreamed and played with this idea for over a year and finally starting to build one. My design has always been 12-13 feet long even though I think that is not a practical hull length. Milk crates are wildly popular for storage and many are highly modified with rod holders, dividers, all kind of things. My goal is to finish the frame this weekend because I have a lot to do next week and probably will not get to spend any time on it. With my finishes the fabric is slick enough they don't stick unless you 'pull' the hook into it. I haven't thought through this enough to know what I am going to do, but you can skin it in two pieces. PS, so you disagree with the guy at cape falcon kayaks, that a shorter (13') kayak can actually be more efficient for long distance paddling? A SOF kayak on my wish list is a nesting, three-piece sectional fishing hybrid kayak like the Native Ultimate or the Wilderness Systems Commander. Most fly fisherman keep their rods, vests, and waders in the back of their vehicle all season long, why not a kayak?
This time I tried staples with a pointed end instead of a chisel cut this time and it still happened just as bad. A couple of more coats on the deck and the floor boards and this one will be ready to start rigging the rod holders, paddle part and head to the lake to do some fishing. Yup, those purists who use 4-wheelers to haul the catch, and rifles to kill it, and heat their homes with stove oil and light them with electricity and fly their fish out to market on airplanes, which they catch in aluminum boats powered by outboard engines, and for all I know buy their kayaks from Gander Mountain.
Paul, I'm planning to get some light dacron like Dyson sells, and use 2-part polyurethane to dope it.
Freight was a little tongue-in-cheek, but I think I saw such a category on the CLC site referring to some of their designs.
Use epoxy glue and double sided tape along gunnels and stems then shrink with household clothes iron.
Blandford's designs aren't very popular any more but they are well thought out, lightweight and fairly cheap to build. I also hunted from it while anchored in a hidey hole near White Sulpher Hot Springs on the outside coast of Chichagof Island, waiting for weather so I could get back in the ocean again. It was stable enough that I never got a rail under, and burdensome enough that I could carry an adult passenger from the boat to the beach with no worries.
I never raced another kayak, but back in the day the ONLY OTHER kayak I saw in Southeast was Dyson's, who was paddling between a cove and Grave's Harbor, going through the rock piles and past the light house at Cape Spencer. I'm pretty sure that anyone racing past me won't have ninety pounds of water on board or a hundred twenty five pound deer.
If I didn't have actual prior experience I wouldn't be so stinking enthusiastic about building some more of them, but I'm loving it Chuck. Next I will cut the stem and stern posts, if they can be called that, and make a keel strinjger to tie the bits together. I think the frame shown in the drawing closest to the ends is not necessary, unless I can't get the volume disposed the way I want it in that area. I altered the cockpit length from the plans by making another frame and bringing the deck stringer aft. I have a surplus center frame now and next I'll start chipping away at the bilge corners to get the spot for the chine stringer worked out. The Percy Blandford kayak I built nearly fifty years ago looked quite like your K0, but with a raised and flared cockpit coaming. The obvious reason for this method was that as the deck canvas was lighter than the hull canvas (12 oz vs 15 oz from memory, but memory's not completely reliable after all this time,) that was really the only place to make the join. I think it was a good design feature, and I'd use it again for that reason if for no other. I think those old designs had lots of stringers because cotton sail canvas wasn't nearly as strong as the aircraft fabric we have available now. I suppose I added the coaming mainly because it was part of the design, and to omit it was to not finish the boat. This is design PBK27, 13' overall, and I have the sister-plans for PBK18, a 17' double-cockpit to the same design-philosophy -- a stable, burdensome, cruising vessel. There are some good photos and a narrative about a PBK27 under construction here, the builder using Ceconite 101 as the skin material.
Plans for at least some Percy Blandford designs are still available through Clark Craft in New York. I started this morning building VARDO and thought it might be to some to see what is involved in the development of a new boat.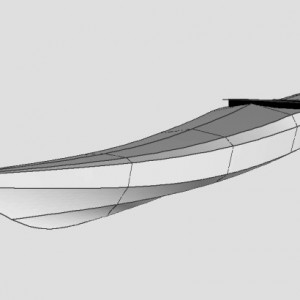 Once the design was finalized I created a set of offsets for the frames and draw them out on some cardboard. Once the frames are laid out I usually cut them in smaller pieces and take them to the bandsaw.
So I went to lumber yard and searched through the WRC siding and managed to find three decent boards, not good ones. Once the frames were done I decided not to run the stringers through the shaper at this time and just work on getting the patterns right.
Once I got a few stringers in place I started working on a new idea, an intermediate frame to support the coaming. With the frame finished I took a seat out of a Curlew and put in the boat to see how it would fit.
After that I take the time to set up the router with a round over bit and ease the edges of the frames.
I lashed a few joints but I spent a large part of the afternoon shooting a new lashing video. After a lot of looking and messing around I finally decided I had made a mistake lofting one of the frames. With that done I was able to replace the frame with no drama, exploding stringer and as if by magic, everything lined up looked like it was supposed too. On one frame the keel slot was slightly off center so I decided to remake it and try one of my full size patterns. Can anyone tell me why I shouldn't build a Macgregor sailing canoe using the skin-on-frame style of construction? I strongly considered building a skin on frame version myself once--but I decided I really, really enjoy the woodworking aspect of trad. If the boat is to be sailed, torsional stiffness will become a big issue and the Monfort 'Geodesic' diagonal strapping is a good solution.
Dave G., or anyone, would you mind giving me a rundown on the different skin options, with their pros and cons? I am building an SOF kayak at the moment and am planning to avoid the vinyl over weight issues. For my geodesic aerolite 14 I used heat shrunk dacron over the varnished frame and then rolled on 2 coats of bog-standard water based undercoat to fill the weave. Then I shot 4 coats of the same water based acrylic floor varnish over everything, plus another coat inside. I'm in the traditional lapstrake camp myself but as I get older and my favorite canoe gets heavier and heavier (I don't know what's up with that??) those SOF Macgregor types look better and better. Robert Baker and his Piccolo canoe have a easy straight forward setup for a sailing option without decks. Skinning options include nylon, polyester, canvas, vinyls and various less common things like hypalon, shrink wrap, leather, linen, or whatever. Personally, I prefer 8-9 oz polyester these days, for its ease of use and quick wrinkle removal with the application of heat.
As for the transparent vinyl, you can just pull hard on it while fastening it to the gunwales (an extra pair of hands is nice!) and this gets out the wrinkles just fine. For flexible skin tough enough to drag over barnacle beaches here, I used 14 oz dacron and squeegeed 3m 5200 into the weave with a stiff plastic squeegee. After building a couple of Monfort geodesic canoes, I found the common polyurethane over dacron or nylon to be pretty fragile. They all work , though the aircraft dacron is suitable for very light careful use as one barnacle scrape will cause a leak . The best skin materials overall are nylon and polyester, George Dyson is the man to buy from . To Pandelume -- the MacGregor can be built as a sailing option without decking over the ends, but it is not a good idea. He posted a picture of his newest creation, a baidarka, the Nikumi, built in non-traditional ways and one that had a clear skin. I killed mine on the last build, and I don't want to build a new one, so I improvise.
Coming into the shop today, I notice that the weight of my clamps and the extra wood for my bifid bow have caused the bow stem of the kayak to sag down, so now my deck ridge and keel line look bad.
First, I put the vinyl over the bottom of the boat, and then carefully cut the vinyl, so that I have enough for the top. They see a large object with a non-clear boat, but how does a little person body look to them from below? I bought the heaviest material, which I decided wasn't durable enough even for light use. I found that using a pair of plyers to pull the material while stapling it makes for a wrinkle free job. If you shop at that online store, PaddlingLight gets a small commission from the sale and it doesn't cost you any more. It offers information about lightweight canoe and kayak travel, how-to articles, trip reports, adventure stories, kayak plans, canoe plans and reviews.
To get WoodenBoat delivered to your door or computer, mobile device of choice, etc, click WB Subscriptions.
Last week I built the first prototype frame, a 13 footer and there were many lessons learned. There are so many advantages to a longer boat, so I started with an existing hull, added rocker, removed deadwood all in hopes of making it a little more maneuverable.
I have been busy working on paying jobs so I have not been able to spend to much time on this one. While I don't sprint or paddle fast very often I like the speed potential of the longer boat. I am not going to complain because most of the delay has been because I was busy with orders and building kits. It's thicker than it absolutely has to be, but this boat will be in the freight hauling category and percentage-wise it isn't too heavy. I'll separate the panels after I cut the frames for the sheer stringer and finish the cutouts after the the rest of the setup is built. Their twelve foot length bent around the frames to the stems will determine the overall length of k1. That will get modified after the keel stringer, which I will get out of VG Douglas Fir, and the rest of the parts are temporarily lashed together. This means it'll be more like a duck than a baidarka, more of a weight carrier than a sprinter.
He used this in designing about a dozen different versions that covered every possible combination of long, short, narrow,wide, one hole, two hole, open cockpit. Then I can start getting serious about the frame placement, getting the center of buoyance where I want it.
The old way of covering this frame with canvas was to cover the hull first, and cover the deck afterwards, overlapping the seams on the sheer stringer.
If the vessel were to be covered with the same material throughout, as it sounds yours is to be, that would not provide any particular benefit of itself. This was that, once the skin was all on (and in my case painted,) the gunwale join between the hull and deck pieces was completely covered with a ?" half-round timber rubbing-strake, and the rubbing-strake both protects the join and also makes it invisible. He's kept the same framing as the original design though, which uses three intermediate stringers between gunwale and hog. If I could find the photos I took of Kareela under construction with my trusty old Brownie Box, they'd look pretty-well identical to the ones on this site.
I don't draw out the actual frame, just the the critical points so I can visualize the frames better. I will wait till the all the frames are lashed and then I I make the final cuts and fit them in place. Of course it was the frame I had mounted to the strong back!! I lashed up to that point so I could take the frame out and it not fly apart on me. It's a bit lightweight for hard use (lots of abrasion), IMO, though I think it's just right for a solo canoe or kayak. That boat belongs to my uncle now, so I don't know how it's doing, but others who have used this material report that it has held up well for over 3 years now. It is not completely smooth so it won't take any honors as a show dog but it's tough as can be. Unfortunately, the vinyl slipped or something, because after I cut, I realize that I cut it wrong, and now it's not cut correctly to cover the bottom completely. It's not as tight as I would have liked, and with fabric, it would have been a ton tighter, but it's done and looks pretty good! After I worm into my new dry suit, I launch out into the waves and paddle up to the rock islands that sit off shore. The fog is hanging near the lake and downtown, so at our house, we have sun, and it's now a pleasure to have something to work on in the sun. I know there are different thicknesses available, but if you don't trust it, no reason I should. We promote self-direction by emphasizing the do-it-yourself culture, and we believe growing paddlesport participation advances wilderness protection. I have thought on this and there isn't a perfect way around it but you can minimize some of it. I received my rod holders today and and I finished up the hard points to mount the rod holders on. I have never fished from a kayak before, and I know the plastic are what most people use, but I have an SOF, and I may need to portage it a ways so its 35 lbs is at least one advantage over the plastic buckets.
Hoping to get that done tomorrow, then start working on the coaming and some seat boards after that. I'm moving the center of buoyancy aft some, sort of swedeform, and keeping the bottom wide where I sit.
I will skip that part and just say I have been working on the boat design off and on for a three months. And I will almost always find stuff I want to change and I am already seeing some I may change. I keep looking down the stringer and they just were not looking like I expected they would. The closest vinyl of the same kind is a four-hour round trip drive away, so I see if I can make do. I play around in the echoing waves and head out about a half a mile or more from shore and paddle up and over the waves. I tested a couple of samples with a knife and small flat blade screw driver and I opted for the 30 gauge .030. For serious fishing nothing will beat a Tupperware boat but I think there is an interest for something like this too. Anyway, I left the cockpit open on mine, it has a huge tandem cockpit actually, the reason was that it is hard to install wells on an SOF so the open cockpit allows me to keep my crate inside the cockpit.
The bilge stringers will be the fiddley part, trying to get the volumes distributed where I want them. When I do the final assembly I'll peg the joints with dowels and be more careful with the lashings. The vinyls - transparent or not - have the advantage that they don't need a separate coating. Eventually, I purchased Wolfgang Brinck's The Aleutian Kayak with the intension of building a traditional baidarka using traditional methods. And after a whole afternoon of struggling, pulling, and stretching, the vinyl covers the bottom tightly. They had up to 60 but the 30 was about as far as you can go with extra weight and pliability. The hooks would catch on the fabric in a way you they just about can't on glass or tupperware. I traveled around the Inian Islands in the mouth of Cross Sound three days in succession with no problem, scouting and looking for deer. I am basically using the midsection of the plans I started with to build upon, a little like the norse setup, and finding the other frame spaces by eye, using the stringers to get fair curves. But, after finishing a West Greenland style skin-on-frame, I couldn't stomach the idea of bending any more ribs, let alone all the ribs required for a traditional baidarka. I'm using PU glue, so it should foam up and fill the gaps to help prevent water from leaking into the cockpit. You could feel the frame flex, which was fun, but I think it might be stiffer than my Greenland SOF. In my opinion this gauge (.030 clear vinyl)is as tough as some of the alternative covering materials I have researched. Before I get that far I will make templates of the frames as you see them, and templates of the frames after fairing and fitting. I recomend doing some research on alternative materials before using the clear vinyl, but i have chosen it for my finish because I find it to be more than durable enough for anything that I encounter here in S.Fl.
After getting the hull painted and rolling it over I could tell that it would be way to much to paint the deck the same color. Quartering winds and waves were a little bit of work to keep the kayak going straight and preventing it from wanting to turn into the wind, but I've been in worse kayaks. Ilena tells me that it looked funny when the waves would make my boat disappear and it would look just like only my upper torso was in the water.