The Rob Austin woodworking shop is a freestanding 30 foot x 60 foot building in the back right corner of the yard in a residential development.
Upon entry, the 10 foot by 10 foot office sits across the floor with a half bath next to that.
As you absorb the expanse of the shop's 10 foot ceilings, your eyes meet a 55 inch LCD TV hanging from the ceiling near the center of the shop, beyond a huge assembly table that has a torsion box top perched on piers above a rolling structure with 24 large drawers. As you near the assembly table (just past the half bath) you realize you are next to a convenience store style drink cooler that is at one end of the shop's kitchenette.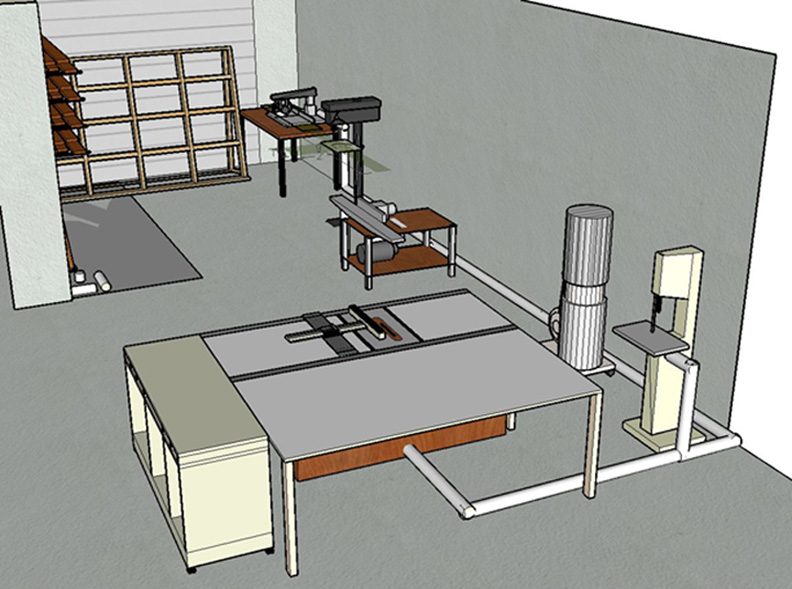 From this perspective, you get a good panoramic view of all of the woodworking shop tools you could expect in a well-equipped shop. Across the room, you notice that the windows are up high allowing a lot of light and leaving an abundance of wall space on the painted plywood walls. The first pair of doors exposes an acoustically insulated double closet containing the 5 horsepower cyclone dust collector and a 3 horsepower 60 gallon air compressor.
The second pair of doors expose large closets for an array of small power tools, fasteners, and supplies typically needed for a wood shop.
Custom Cabinets & Woodworking - Atlas Green Homes, Custom Homebuilder Houston Austin San Antonio, FHA Certified 203K contractor. An upright, cupboardlike repository with shelves, drawers, or compartments for the safekeeping or display of objects.