I'll be tossing the old table I threw together a few years ago and am researching what sort of new table to build. I also have a router mounted in the right side Woodhaven crosscut table but because of its position and my shop layout, it kills my back if I have a lot of routing to do. I increased my rip capacity when the router is in use and when it's not I can get almost 36".
Early this year I was out to lunch with a fellow woodworker and related the negatives I had heard about putting a router on my TS.
My new router table was functional and had a working fence, so as planned I used it to finish the build. Personally I prefer a separate setup for a router table as I like having full access to my table saw if needed, but that's just me - I'm always doing multiple projects at the same time. The dust collection system consists of an Oneida Super Gorilla Dust collection unit with self installed ducts, blast gates and flexible hoses.
The table saw is a left tilt 10" Delta Unisaw equipped with a Biesmeyer Fence, a 52 inch support table and an out-feed table.
For drilling operations the shop has an old Rockwell-Delta radial drill press fitted with a shop made table that permits normal vertical drilling in horizontal positioned stock or drilling vertical mounted stock such as lamps, table legs, and pedestals.
For routing operations the shop is equipped with a shop made router table that is based on a design from Norm Abrams New Yankee Workshop.
I still get some dust on the table, but i get as much dust on the top from about 20 cuts with the DC as I would with 1 cut without it. I also built the ShopNotes dust collecting guard and the hose from this reaches my router table fence. This arrangement allows for collected sawdust and debris from the dust control unit to be easily removed from the shop.
I have a Triton router which cranks right up above the table top for bit installation and removal, which I like.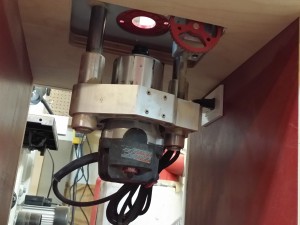 I like the size of the table and use the back of my table saw fence and clamp a router fence on it and it works great. This gave me room to move the left extension to the right side and to include my router table top. On moderate days the double door arrangement permits the interior door to be closed and the back door to be open so all air and fine dust from the dust control unit can be discharged to the exterior of the shop.