This arbour pergola plan can be used to create several wonderful garden structures: in fact, it can be anything you want it to be!With trellis panels at the sides, it forms a beautiful walkway or arch. The length and width of the arch can be easily modified, along with the direction of the rafters, even making it into a larger pergola. Or, with an additional trellis panel at the back, it creates a fabulous arbor under which to place a garden bench or chairs. An arbour pergola, on the other hand, provides a cosy retreat in which to while away the hours, and can be enhanced in many ways by the addition of garden furniture sets, seats, cushions, throws, lights, fragrance burners and all manner of accessories.Many are drawn, on the one hand, to its secluded peacefulness, others to gatherings for intimate chats, or warm, lazy days relaxing under its welcoming and cosy protection.
This footprint shows the pergola arch, which has two trellis panels running down the sides between posts 1 to 3, and 2 to 4.
The arbour pergola plan shows how to position the posts so that the arbor pergola trellis fits perfectly. Adapting the plans, to give a truly unique structure, is also easy, and detailed instructions are given on how you might do this.The pergola shown was built as a bespoke structure for a client. Included are 18 free pergola rafter tail design templates that you can print out and use straight away. If you would like to contact me for further information about the pergola arch or arbor pergola plan, please use the contact form.I always love to hear from anyone who has made a pergola from one of the plans, so if you feel like sharing your achievement, just fill in the feedback form, or have your own page on this website, telling your pergola story and sharing a picture or two.
See the 'Fantastic Offers' page for more bargains on pergola kits, tools and all things gardening!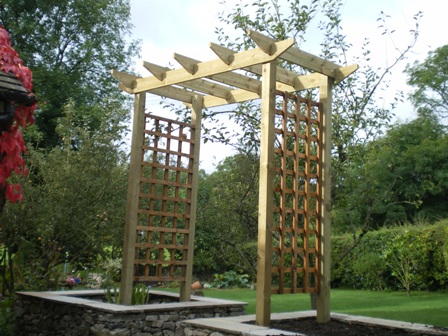 The Forest Garden Ultima Pergola Wooden Garden Arch is made from high grade pressure treated timber, with a 15 year warranty. Vinyl Pergola Parts Pre-packaged kits of 8 ft modular sizes and separate parts & profile to design your own. Design ideas below show connections and parts used to design attached or free-standing Pergolas, limited only by your imagination! Here the rafters are 'raised', giving an attractive appearance when the sun casts a shadow on the main rafter, but the rafters could also be flush fitting or un-notched (all explained in the plans). It was built within two raised beds, on either side of the steps.The raised beds have been planted in a beautiful cottage garden style, and the climbing plants are beginning to grow up the trellis. They fit the timber sizes of this pergola design and show how to create and incorporate the raised rafter style.Shaped rafter tail ends give the most noticeable difference to your pergola, lending it an individuality that will make it stand out from the rest.You will be able to create a unique and stunning structure that will have a real Wow!
Let us all know how you got on!"I have just finished building my pergola and it looks amazing.
Having completed building the Hexagonal Pergola last summer using the plans on this website, my mother in law asked if I could create something special for her side of the garden. Starting from my planned center, I measured points on the hardboard for my curve, and put nails into the board. The plans still work with any modifications.Here it is as a pergola, with added purlins for a decorative effect.
By adding height you are claiming all that air space as your own.The best part, however, is when beautiful climbing plants are added for their wonderful colour, form and fragrance. You can have trellis wherever you wish - or simply have none at all, letting the beautiful climbing plants climb up the posts.If you fancy a wooden swing seat hanging from the rafters, creating a swinging arbour, make sure both posts and rafters are sturdy enough.
I decided to build a rose arch, and having decided on locating it near the main gate, where we have many roses, (well of course-duh!) I then set about what to create.
I can't wait to get plants growing up the trellis now!"IanCumbria, United Kingdom.Here's to you and your wonderful pergola.Have fun!
Having placed the first post,and it setting in the concrete, I then used a piece of wood as wide as the side panel to measure where the next post would be placed.
This was very easily cut off and the top of the post was then re-treated to protect it from the elements.For the center roof beams (left to right), I used a slightly thicker wood at each end, cut into a small rectangle and sanded down the edges, then screwed it to the beam, (one screw), then screwed it onto the arch, (2 screws).