Susan Raymond, Owner and Head Trainer, established Calm K9 Dog Training and Behavior Solutions in 2009 in order to focus on enriching the lives of dogs - and their owners!
In addition to having received extensive mentoring and formal training from several nationally acclaimed trainers, Susan draws on her own remarkable capacity to empathetically connect with dogs at first meeting, to the amazement of her clients.
Susan's desire for on-going education is a high priority, and she attends several national events, seminars and workshops every year, always returning home with a refreshed, informed outlook and new tools to incorporate into her training practices.
Susan's experience, expertise, intuition, open-mindedness, dependability and clarity of communication embody the necessary components and traits of an effective dog trainer.
Currently Esko is back home resting both physically and mentally from his narcotics training.
While Esko takes a much needed break from his narcotics training, we have been showing him in UKC conformation.
Well it's time for Esko to return to further training at US Tactical K9 Law Enforcement Academy. Our K9 Scent Detection team is licensed and trained to detect the lowest levels of bed bug activity.
Our K9 Inspector, Jack was tested and approved to start training in April 2010 with his handler. He and his handler will go for their Level One K9 certification and then Esko will continue training for his Level Two and Three followed by more certification for both handler and K9. This not only gives Esko some conformation ring training, but also gets him out into the public. This has been a dream come true for Esko's handler and now they will continue their training for Level's Two, Three and Four.
A short break and then it's back for more training in which he will begin his training for his Level Two Narcotic certification.
We would like to thank "US Tactical K9 Law Enforcement Academy" and Trainer Malinda Julien and staff for all their help in the coming months.
After a short rest and relaxation, Esko and his handler will return to training for their K9 Certification which will be followed by his BH title.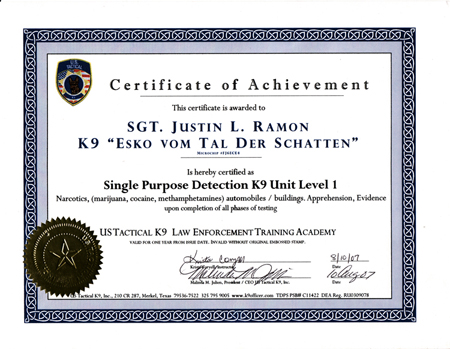 ---