If you have a new puppy, it is best to start lessons early and reinforce them often.  Here are some tips for teaching your puppy good leash manners.
If the dog starts to get ahead of you, but before he or she gets to the end of the slack in the leash, turn around and begin walking in the opposite direction while making a kissy sound with your mouth.  The dog will turn around to see what you are doing, and will soon catch up with you, and you can reposition the dog where he or she belongs.
Gradually lengthen the distance the dog must walk in the proper position before you stop for reinforcement via praise and a treat.  As the dog gets it, begin to give treats only randomly so he or she never knows when they are coming. Check out this article from Colorado's Dumb Friends League for more informative tips on loose leash walking.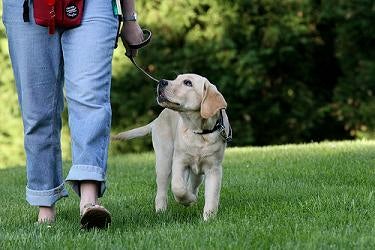 ---