I remember how hard it was to teach my first big dog that walking on a leash was beneficial for both of us.
Some dogs might take to walking with a leash as if they were born with one attached to their collar. There are always the few that freak out and try to lay down when a leash is being used to guide them.
These 7 tips on teaching your dog to walk on a leash should help you to avoid dislocated shoulders and from having your dog strangle himself as he tries to avoid being cooperative. I had a puppy that would actually throw herself upside down, forcibly, each time I tried to get her to walk with a leash on.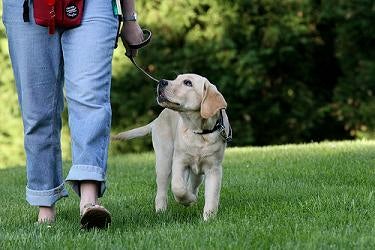 ---