I take for granted the knowledge that I have accumulated from over 20 years of dog training. The puppy, who has lived his whole life being able to basically go wherever he wants do whatever he desires then suddenly restraint. We as humans think puppies are born with collars and leashes on, and come from the womb knowing how to act and behave on one. So I would click and treat as I put the collar on and then click and jackpot as my puppy acclimated to it with no scratching or fit throwing!
I recommend starting in a safe environment (not near stairs or sharp objects) in case he bucks or tries to run from the leash.
Let him drag it around for a few days, which means click it on and then watch him as he drags it for several minutes, and do this at least 5 times a day. Let him wander (basically) wherever he wants provided it is not dangerous and let him know that the leash is nothing to fear. Do this a half dozen or more times per day until he is excitedly awaiting his leash and wandering around normally outside.
Hi Minette, I never had a problem with my puppy he took to the lead straight away day I got him. I put harnesses on small dogs because of the risk of tracheal collapse, collars on big dogs, give treats and pets and all kinds of enthusiasm and everyone seems fine.
I start with the collars and harnesses, add in the leashes, leash train inside the house (attached to my belt, with lots of treats) and it all seems to work out.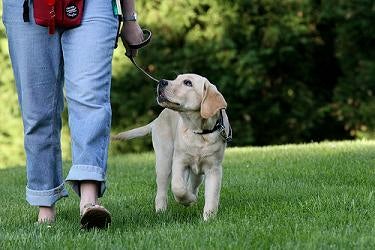 ---