As many of our local clients know, we recently relocated our North Austin dog training center to a new location in Leander.  The new location is an indoor training center that offers full protection from the weather and brings on a whole new set of training challenges for the dogs!
The brand new dog training facility has plenty of space to continue our traditional curriculum, like distance sits and downs, off-leash recalls, and heeling off-leash with a lot of turns thrown in, but we can also expand on our training drills to include new drills and training scenarios that we couldn't offer at our old training location.   In addition to expanding on our existing curriculum, we will be able to offer fun extra classes like K9 Scent Games, advanced obedience, Trick Training,  and some other fun stuff that we have planned!  With the new location come new merchandise!  Be sure to stop by and check out our new assortment of interactive toys, dog collars, treats, and other cool stuff for your dog! If you enjoyed this entry, don't forget to subscribe to our dog training blog.
Whether you are a doggie day care, dog training facility or a pet owner, synthetic turf is a great solution for you!
The indoor facility is fully matted with state of the art shock absorbing non-slip rubber flooring The training center is 10,000 square feet, well lighted, heated and air conditioned.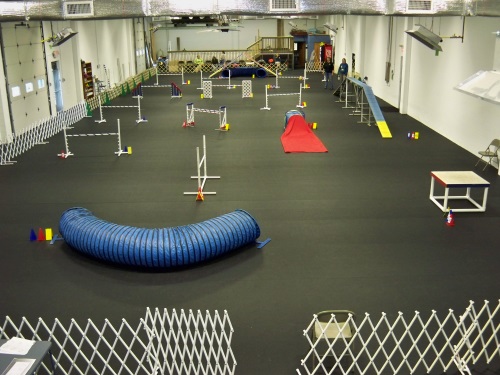 ---