Class runs for 7 sessions • Saturdays 10:00 - 12:00 • The fee is pay-as-you-come$5 for minors (18 years and younger)$10 for adults (18 and over)4-H members welcome! Proof of vaccinations required, mixed breeds welcome for training, obedience training preferred but not required. Call or email if interested!       Rally Obedience is an AKC sport in which the dog and handler complete a course that has been designed by the Rally judge. Call or email if interested!   American Kennel Club started the Canine Good Citizen Program in 1989 as a means of rewarding dogs who were well-behaved at home and in the community.
The dog and handler proceed on a loose leash at their own pace through a designated stations, 10-20 stations depending on the level of the course.
CGC is necessary for acceptance into a Therapy Dog program and is required by some facilities prior to dogs being allowed into offices.
A psychiatrist in Lewiston got the CGC on his dog that serves as a therapy dog in his office.
All dogs (including purebreds and mixed breeds) who pass the CGC Test receive a certificate from the American Kennel Club.
All dogs are required to have received their rabies and DHLP (distemper, hepatitis, leptospirosis, parvovirus) vaccines.  A bordetella vaccine is also strongly recommended.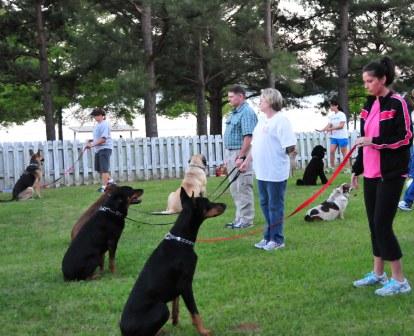 ---