For the year 2014, NBRF had 39 borzoi come into rescue and has successfully placed 37 of those borzoi in loving forever homes, one is a permanent foster due to a chronic medical issue that does not affect the quality of life for the dog and the other will be going to its forever home in mid-January 2015.
To date in 2013, NBRF has taken in a total of 53 borzoi into rescue; some borzoi are in rescue due to deaths of owners, critical illnesses of owners, and owners no longer wanting, or unable to care for, the dogs. NBRF put out their first mailed newsletter the beginning of September, mailing it to all their adoptive homes over the past several years. As reported in our July 2013 report, NBRF does not spend its funds on non-borzoi rescues, however we had a successful fundraiser for Rescue Borzoi Ditto and his Buddy, a boxer mix that were found running loose in the Snohomish area of Washington state in July. As reported in our July report, NBRF was asked to care for, house and provide veterinary care for two borzoi that were seized by authorities in Vermont on an animal neglect case. NBRF encourages ALL breeders to permanently identify their borzoi and puppies with mircochips or tattoos.
To date in 2013, NBRF has taken in a total of 34 borzoi into rescue; some borzoi are in rescue due to deaths of owners, critical illnesses of owners, and owners no longer wanting, or unable to care for, the dogs. As NBRF does not spend its funds on non-borzoi rescues, we are currently doing a fundraiser for Rescue Borzoi Ditto and his Buddy, a boxer mix.
The National Borzoi Rescue Foundation (NBRF) is dedicated to the rescue and permanent placement of all displaced borzoi across the United States.
To date for 2013, NBRF has taken in a total of 8 borzoi with only two remaining in foster care and they have a home together waiting for them pending an in home visit. Also, Tala, the last of our Pickle Hill Rescues, has made it to her forever home in Atlanta, Georgia and is thriving in her new environment. We would like to thank the Beverly Taylor Trust Fund Committee for continuing to ensure that Ms. We are still awaiting the veterinary bill for our senior rescue in Arizona who came through surgery yesterday with flying colors after having 4 mammary tumors removed and a large fibrous tumor removed from the inside of her mouth.
NBRF again wishes to sincerely thank you all for your continued support and diligence in handling the Beverly Taylor Trust account. Again, we thank the board members of the Beverly Taylor Trust Committee for their continued support. In October 2010 NBRF got 3 borzoi in from a no kill shelter in Vermont that were owner turn ins. To print copies for use at borzoi events (shows, walks, meet the breed): click on the above image to download the pdf & save it to your desktop.
We got wonderful feedback from many adopters, sold several limited edition borzoi prints that were advertised, and got some volunteers for upcoming fundraising ideas.
We are very excited about this fundraising opportunity and hope that it is very successful for us. Both dogs were heavily matted with sores and lesions, one was matted so bad that he could not completely stand up unrestricted, were weak and poorly muscled, both had severe urinary tract infections and both tested positive for Leptospirosis. Prior to surgery it was confirmed that her lungs were clear of any growths or tumors so we, and the veterinarian, have great expectations for a comfortable quality life for this old gal. Because of your efforts, we are able to continue the highest level of care for our Borzoi in need of rescue. We have been involved with the placement of several of her Borzoi and stand on call with the local Animal Control to receive the Borzoi should they decide to seize the dogs. Because of Beverly Taylor's love of the Borzoi, her final wish that no Borzoi be left behind because of lack of funds for their care, is being carried out.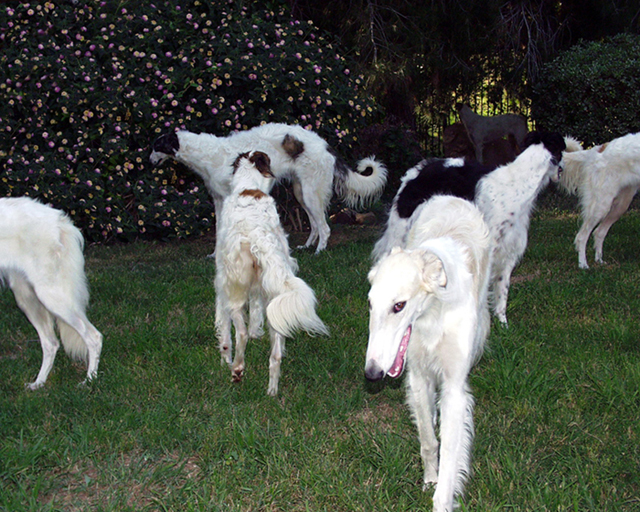 We understand that this owner in Burlington,VT is in violation of her kennel permit and has at least another 10 borzoi, however the local jurisdiction is not acting upon this violation. The envelopes, paper, mailing labels, ink and printing costs were all donated for this first newsletter and are pleased to say that the proceeds from the print sales alone, not to include donations received due to the newsletter, paid for all the postage on this mailing and our next. There is no out of pocket expense for NBRF and we are proud of the 6 varieties of "Howling Borzoi Vineyard" wines that carry labels of 6 of our rescues!
As the breeder of Ditto would not provide us contact information for the father of the owner, a homeless veteran, nor have him call NBRF, we found a wonderful loving home for this tightly bonded pair. Other borzoi are being fostered in various states awaiting their forever homes; one in Ohio, one in Tennessee, one in Georgia and one in Alabama. However, this total does NOT include the vetting of the 4 borzoi in California nor the 2 borzoi that are evidence.
Adoption applications, references checked and home visits are required prior to placement with emphasis placed on the quality of life, and special needs, of each individual borzoi. To date for 2013, 4 additional borzoi have come into rescue and two have been placed in homes, 6 borzoi remain in foster homes and are available for adoption. This year's distribution of the interest on the trust is significant and is the majority of our funding for expenses. We received four Borzoi into rescue we had previously placed into loving homes, one of which whose owner had to go into a nursing home and two other seniors whose owner had died. The breeder was standing by to pick this Borzoi up when at the very last minute the owner did come for the dog and paid his bill in full. Sally got her first borzoi from NBRF in 2000 and currently has two rescue Italian Greyhounds, one Greyhound, and 5 Borzoi. We anticipate getting more borzoi from this location though not from the owner herself but again from a shelter where she dumps what she apparently no longer wants.
We again offered to take all the remaining Borzoi on the Pickle Hill property and were again refused. The Veterinary office followed all the correct procedure before releasing this Borzoi to NBRF. She stated that she wanted to surrender 24 Borzoi to NBRF, 12 now and another 12 a short time later. It looks like she is going to be a cream and white girl and she is being fostered, and treated for Leptospirosis, in Ohio. There has been an outpouring of sympathy and caring for the dogs, their owner, and her situation. There is also a lovely black and white yearling male at Edna Hanley's in Ohio, he is from Bob Torquato's and is ready for his new forever home!
NBRF is most happy to help any breeder finding themselves in need of help for their Borzoi but, it needs to be understood that NBRF is not a dumping ground for breeder's unwanted dogs so they may continue to breed.
As you all know, Fern Lockrem died in September 2010 leaving her husband, Lou who is in his 80's, to care for their Borzoi. At the time of Fern's death there were between 116 to 130 Borzoi at Pickle Hill in Garden City, Missouri. I understand that Amy Balthrop and Bonnie Dalzell were at Pickle Hill shortly after Fern's death, as well as some other people, and were helping Lou care for the dogs. Shortly after Fern's death, Mark Nickle of Meadowbrook Dog Rescue out of Kansas was given 10 of the dogs from PH (Pickle Hill), those being the Borzoi that were in the worst condition.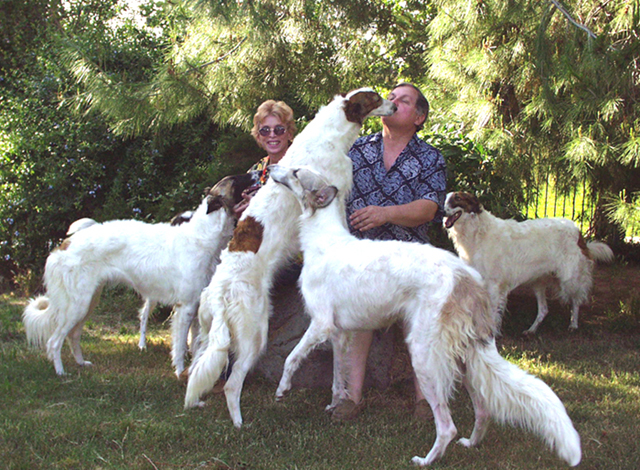 While there, Mark Nickle also bought a young puppy for $300 and left a donation of several hundred pounds of Iams dog food.
As you can see in the photos, one of the dogs was immediately euthanized because it was suffering so badly and it was the kindest thing that could be done for the dog. The other 7 were treated for fleas, were de-wormed and seen by Linda's vet for basic medical triage.
It was found that one of the Borzoi had three fused and one deformed vertebrae in his neck and was in severe pain. Once at PH, Claudia told me Lou was convinced NBRF would take all the Borzoi and put them to sleep and therefore he was refusing to allow NBRF to help.Liz Duncan-Burge, Vice-Director of NBRF, suggested that I, Carol Backers Director of NBRF, step down from this particular rescue effort and allow her to take the lead. Claudia relayed this information to Lou Lockrem and he accepted that stipulation and requested NBRF and Liz Duncan-Burge to assist him with the remaining Borzoi. Liz coordinated the efforts and volunteers to take approximately 60 Borzoi with Sue Breaz volunteering to take up to 30 Borzoi for staging, vetting and fostering.
NBRF stipulated that NBRF would get all the remaining Borzoi with the exception of two older female Borzoi who would be left with Lou. Persons at PH kept putting back the date that NBRF would be allowed on to the property to pick up the Borzoi.
Three additional NBRF volunteers arrived on the same afternoon and with Liz taking 17 Borzoi, and the three volunteers taking 10, there was a total of 27 dogs that came into NBRF care on that day. When Liz left, she made arrangements with Lou Lockrem and Bonnie Dalzell to return on November 12th, 2010 to pick up the remaining Borzoi and noted that there were approximately 30 to 35 Borzoi still at PH with at least 3 Borzoi being visibly pregnant bitches. The night before the return trip, Liz received an email from Bonnie Dalzell stating that NBRF would only be allowed to take 10 more Borzoi.
One of the dogs that was to remain at PH was an obviously pregnant bitch and when Liz asked about that Borzoi specifically she was told by Lou that his wife's legacy was going to live on and that Fern had had the best Borzoi out there. She at first offered to take 5 of the Borzoi NBRF had already gotten but I told her to call Bonnie Dalzell and get dogs directly from PH as at that point it would be easier to move dogs west from the Kansas City, MO area than move dogs that were by that time in NBRF and already 400 plus miles east of Kansas City. Maggie contacted Bonnie Dalzell and I understand that 7 Borzoi from PH went to CO with Maggie taking 5 and 2 others going to homes in that area.In December of 2010, NBRF received 3 more PH Borzoi. The Borzoi were given to this Poodle breeder with no signed contract, unaltered, no vet records, no safety net, no back up plan if the home changed it's mind, and with not even a verbal commitment from the Poodle breeder. The owner contacted us again in December and turned over her last two borzoi on January 1st, 2011. Liz has done and is continuing to do an outstanding job of dealing with everything concerning the PH Borzoi from placement into foster homes, payment of the bills associated with the dogs, finding foster and permanent homes, keeping track of everything concerning the dogs and keeping me informed.
It is Liz who deserves all the credit for this rescue going as smoothly as it has and it has gone very smoothly.
Had Liz not stepped up and taken the lead in this, NBRF would not have been able to help and save these Borzoi. It is liz Duncan-Burge who is deserving all the credit for for 20 of the PH Borzoi already being placed into their new homes in such a short time and all, to date, smooth transitions for the dogs and homes.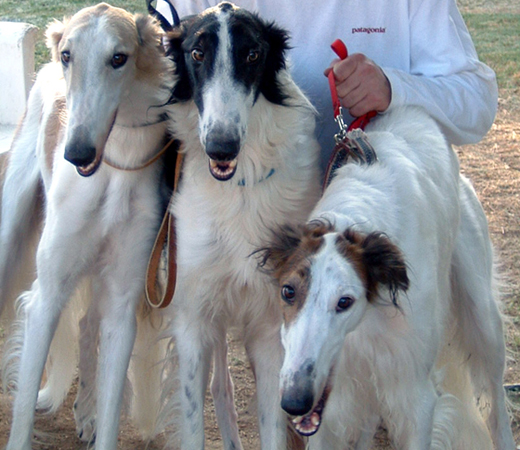 ---