Bearded Collies: the most honest dog breed review you'll ever find about Bearded Collie temperament, personality, and behavior. Bearded Collie Temperament, Personality, Behavior, Traits, and Characteristics, by Michele Welton. Some Bearded Collies are rowdier than others, but most tend to jump up into your face unless taught otherwise.
Beardies are very sociable dogs who can become unhappy and destructive if left for long periods of time without the companionship of people or other pets.
To learn more about training Bearded Collies to be calm and well-behaved, consider my dog training book, Teach Your Dog 100 English Words.
It's a unique Vocabulary and Respect Training Program that will make your Bearded Collie the smartest, most well-behaved companion you've ever had.
My dog buying guide, Dog Quest: Find The Dog Of Your Dreams, will teach you everything you need to know about finding a healthy Bearded Collie. If you'd like to consult with me personally about whether the Bearded Collie might be a good dog breed for your family, I offer a Dog Breed Consulting Service. Once you have your Bearded Collie home, you need to KEEP him healthy -- or if he's having any current health problems, you need to get him back on the road to good health. When you're acquiring a Bearded Collie PUPPY, you're acquiring potential -- what he one day will be. Bearded Collies MUST have regular opportunities to vent their energy and to use their busy minds to do interesting things. Bearded Collies definitely shed, though some of the shed hair gets caught in the long wavy coat rather than ending up on your floor.
There are plenty of adult Bearded Collies who have already proven themselves NOT to have negative characteristics that are "typical" for their breed. The best Beardies are versatile working dogs, capable of learning a great deal, but they have an independent mind of their own and are not pushovers to raise and train.
When he eats, his beard absorbs food so that when he sniffs your face or presses his head against your leg, YOU end up dirty, too.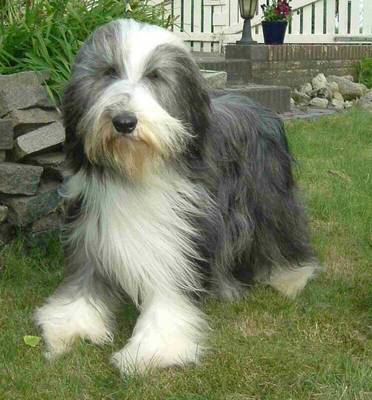 ---