I found this box of pre-crumbled graham cracker crumbs, it made making the crust so much more convenient. In a medium bowl, mix together the graham cracker crumbs, sugar and butter with a fork until combined. While chicken is baking, grate Gruyere cheese.After 20 minutes, take chicken out of the oven and sprinkle cheese over the top and bake for 10-15 more minutes. Sprinkle the Carbquik over the sausage; stir to blend until no dry bits of Carbquik remain.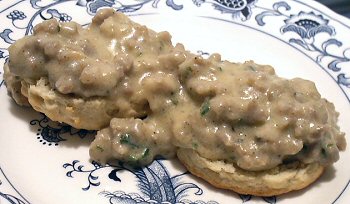 If the bacon is still soft after 20 minutes, heat under the broiler on low for a few more minutes, watching carefully so the bacon doesn't burn. Take the butter you need for your recipe and place it on a plate in a pile that will facilitate a glass being placed over the top. Chicken breasts browned in butter and olive oil, then baked with sauteed mushrooms, onions and white wine, then a final layer of grated Gruyere cheese!
Parsley wasn't called for in Chef Greg's original recipe, but I always added that to mine to give it a little color.
Serve over hot Country-Style Baking Powder Biscuits (not included in carb counts - see recipe below).