The end of this book has two great sections: one section describes the health benefits of the different foods in the book and the other has healthy food extension projects for parents and teachers. Each 2-page spread features a letter of the alphabet, foods (in both English and Spanish) that begin with that letter, and a really cute face made of all the different foods.
The extension projects include creative and tactile exploration of all different types of healthy foods.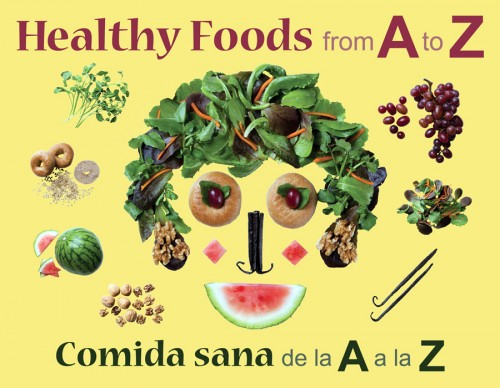 Carrie Wells is a college instructor, blogger, wife, and work-at-home mother to two young children, Lydia (age 4) and Bryce (age 2). Topics of interest to her include child development, natural living, healthy eating, fashion, and beauty. After teaching children ages 3 – 21 with varying abilities for several years, she completed her Doctorate in special education in 2008 from Nova Southeastern University.
Wells began blogging as Huppie Mama, writing about child development, healthy eating, crafts, and natural living.