On Sunday, October 14th from 1-3pm Katherine and Sophie will host a discussion, Q&A and sign copies of their new cookbook on Bethesda Lane as a part of the Writers on the Row weekend book festival.
Birthdays, cocktail parties, weddings, bridal showers, picnics, or low-key get-togethers with your friends--all occasions should be topped off with a cupcake!
Including step-by-step cupcake decorating instructions with photos, guides for cupcake table presentations, and tips for throwing the best parties, Sweet Celebrations is the perfect cookbook for the home baker and entertainer looking to wow friends and family. Katherine and Sophie also share charming personal memories of holidays and special events while giving readers the tools to plan their next cupcake-filled special occasion! To help promote their new cookbook signing this weekend in Bethesda, the ladies of Georgetown Cupcake sent me their new book, Sweet Celebrations.
For the wedding readers, it includes recipes for their favorite cupcake for a wedding, a few tips about cupcakes as favors, as well as how to build a cupcake tower.
In this delectable book, sisters and stars of the hit TLC series DC Cupcakes Katherine Kallinis Berman and Sophie Kallinis LaMontagne serve up more than fifty recipes for every celebratory occasion. Katherine and Sophie go above and beyond the ordinary cupcake call of duty with innovative recipes, including frozen cupcake pops for summer picnics, baby blue and pink "gender reveal" cupcakes for baby showers, and recipes for non-cupcake treats such as their grandmother's Greek butter cookies and their all-time favorite milk shakes.
Next, using piping gel (or water), place the three yellow circles on the monkey face so that the larger circle is at the bottom of the cupcake and the two smaller yellow circles are equally spaced above the large yellow circle. They even stacked cupcakes in the center to create a "volcano" dripping with red buttercream lava.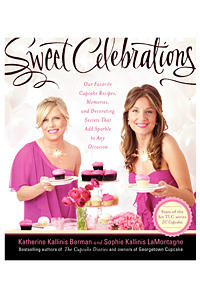 You might know Katherine Kallinis and Sophie Kallinis LaMontagne, from their hit show on TLC, DC Cupcakes. If you're anxious to satisfy your sweet tooth sooner, you can visit Georgetown Cupcake anytime in Georgetown or Bethesda!