So I was getting pretty good at this sprouting method, doing everything from buckwheat and quinoa to chickpeas, mung beans and a Mumm's Organic Sprout mix of alfalfa, fenugreek, and mustard and all sorts of taste seeds. I couldn't get them out and cleaning the sprouter was a nuisance that involved a knife and a lot of banging. I did so much sprouting after I went vegan in 2009 and 2010, it's a lot of fun and yummy mixed with many things, all needed is love and patience. I'm a beginner too, but I'd love to be on this sprouting trial-and-error journey with u!
I attended a sprouting workshop at Concordia's sustainability Fair and took home my own mason jar (of which I had many already for canning) and my own mesh screen with which to replace the lid (of which I had none). For sprouted small seeds, place them in a large bowl of water and skim off the seed husks that will float to the surface. After that experience I decided to stick to large seeds and beans to sprout – ones that would sit on top of the trays and not fall through the cracks.
The way the sprouter works is there are rows for the seeds and then a basin directly below that keeps the seeds damp but not wet.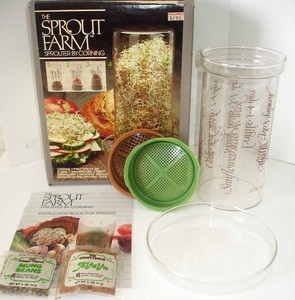 I read some reviews of it online and while some people had complaints about seeds getting stuck in the trenches of the sprouter, being too wet, and going moldy, many were very positive. Except I don't think they sprout as quickly this way, so I dumped and refilled the water once or twice over the course of the 4 days I left the seeds in there).