Plant based diet weight loss success stories
I just place a couple of slices of ham lunch meat on a flour tortilla and top with shredded cheese.
37 Comments About Kris BalesKris Bales is the classically eclectic, slightly Charlotte Mason homeschooling mom to three amazing kids, the Christ-following, sweet tea addicted wife to one unbelievably supportive husband, and the formerly obese, couch-potato-turned-healthy runner of a bunch of 5K races and two half-marathons. Unfortunately, I have three picky eaters!(one being my hubby)So my girls' lunch usually consist of peanut butter and honey or a mish mash of their favorite foods on a plate or in a muffin tin.
I don't know about you, but I find the concept of making lunch in the middle of the school day annoying.В  I have to switch gears from teaching to cooking, and my brain doesn't always move that fast. Least favorite meal here as well – our normal standby is breakfast cereal that Anna is happily eating for lunch. The children take it in turns to chop up a heap of vegetables, fry and add stock for a lovely healthy soup, with absolutely no effort on my behalf.
I love the variety of yours and I'm fairly certain my poor deprived children would jump at the chance to drop in at yours for lunch time!!
Tiany Davis is the owner of The Homeschool Lounge, a private community for homeschool moms.
If you need more lunchtime ideas, here is a great monthly lunch menu printable from Teach Them Diligently. I've been looking for homeschool blogs, for years, and have never found anything i really loved. Then whatever isn't eaten for lunch burritos can be used for bean dip with chips for a good protein snack later in the week.
I finally decided that in order to make our days run smoothly, I needed to create a lunch menu along with our dinner menu — preferably meals that are healthy, quick and simple, and that the boys could make on their own.
Not to mention they feel a great sense of accomplishment when they can prepare meals for each other. Once the cheese is melted, I usually turn on the broiler for a minute or two, just to get the ends crunchy…but definitely not anything even hinting of burnt or the kids won't eat them. I'm really inspired by this site and thank you so much for sharing all of this great information! I used to eat on the run, after the boys had eaten their lunch, until I realized how much they enjoyed for me to sit, eat and chat with them.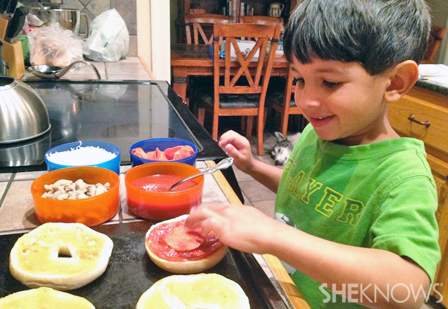 Category: paleo cook book
Comments to "Lunch ideas for homeschoolers"