Most of the players on the Wildcats' two deep were predictable, such as Jake Waters starting at quarterback and Tyler Lockett starting at wide receiver, but there were a few surprises. Deante Burton was walking down a hallway inside Kansas Statea€™s football complex Monday when he heard the news. The Kansas and Kansas State University football teams will meet under the lights of Memorial Stadium on Oct.
Are you in favor of KU switching the Jayhawks' home football game against Kansas State from a Saturday to a Thursday? Fans of the annual Sunflower Showdown between the Kansas University and Kansas State University football programs won't have to wait quite as long to see this year's game.
The annual Sunflower Showdown between KU and K-State football is being moved from a Saturday to a Thursday. KU officials announced Tuesday that the 108th edition of the Sunflower Showdown, originally scheduled for Saturday, Oct. The KU-K-State football series is the nation's fourth-longest uninterrupted series in the country. Kansas had won four of the last five meetings, including three straight before Kansas State defeated the Jayhawks, 17-10, in Manhattan last year. KU coach Turner Gill said he was excited about the schedule change for this year's contest. They might not have announced plans for conference expansion, but Big 12 officials Tuesday revealed an early look at the 2010 television schedule. Eighteen games have been chosen as part of the Big 12 rights package, and Kansas University will be a part four of them. This is great exposure for Coach Gill's first team with two national telecasts and maybe another one or two more depending on how the season plays out. KU beat Michigan State on a Thursday night in 1993 and lost to K-State on a Thursday night in 1994.
However, this doesn't benefit the fans who work five days a week and have to travel any distance to the games.
Great exposure but means out-of-towners like me who might otherwise attend the game in person, won't. For the record, I am a double alum from KU, I don't live in Lawrence, but I will be there along with my 11 year old son.
Translation from these posts: I want what is good for KU as long as it fits my personal schedule. As for the people complaining that they can't make it to a weeknight game, I do have sympathy for you not being able to attend. It's hard to get crowd noise when KU "fans" are telling other KU fans to sit down and shut up. I have noticed several posts saying, "Some of us have jobs." They were posted in the middle of the work day. Thursday night game--you know, one gets tired of watching the ACC or the Big East on Thursday nights, so, I kind of happy that it will be a Thursday Nationally televised game. With signing day right around the corner and the current dead period about to expire, now is as good of a time as any to examine the so-far-so-quiet recruiting landscape of Kansas University's football program. Beaty, who was hired in December of 2014 and barely had two months to fill out the 2015 class, will have the luxury of bringing a class entirely full of his recruits to Lawrence this time around, but it will not be a full class. Because of the number of 2015 additions that counted forward toward the 2016 class in order to get them on campus prior to last season — think WRs Quincy Perdue and Joshua Stanford, OL Larry Hughes, DT Corey King, etc. In case you've forgotten or are in need of a refresher, a quick look at the 2016 recruiting class thus far, a list that includes the three recruits who signed during the mid-year transfer signing period and the seven oral commitments who, as far as we know, remain committed to the program. On the surface, with the Jayhawks known to be lacking numbers to begin with, that certainly seems like a bummer.
A strong case could be made for either argument, but, at least in my opinion, the recruits who arrived early and counted forward but had more than a year or two of eligibility remaining were 2016 scholarships well used.
But anyone who tells you that the goal is to bat 1.000 in recruiting does not deal in reality.
To the best of my knowledge, the following players counted forward to the 2016 class but were on the 2015 roster.
Do with that information what you will, but, I think it's important to remember that even the biggest and baddest programs out there don't hit home runs on every recruit. With seven players in the 2016 class currently committed — a handful of KU commitments fell off the radar during the past couple of months because of a number of issues, most of the departures falling in the category of the KU coaches doing what's best for Kansas — that leaves roughly seven spots open and two crucial recruiting weekends right around the corner to fill them.
By far the biggest fish still out there who KU has a shot at is Lawrence High prospect Amani Bledsoe.
Both offer good opportunities, albeit in different ways, and Bledsoe is expected to take the decision all the way down to the wire.
If KU can land Bledsoe, it would turn what already looks to be a pretty good class into a solid one, and there's no telling what his addition could bring.
Would it entice other four-star prospects on the fence to at least consider joining him at KU?
A perfect example of this comes from right down the road at Olathe North, where stud Isaiah Simmons (younger brother of former Jayhawk Victor Simmons) remains undecided and could really give KU a chance if he knew he'd be joining Bledsoe in Lawrence. If they don't get Bledsoe, nothing is lost because KU's not getting a real shot at a bunch of four-star prospects anyway. Even though the numbers are down, you can bet darn sure that KU is going to introduce as many quality additions as it can on February 3rd. That philosophy is responsible for at least one or two of the departures of players who had orally committed but no longer appear on KU's radar. The weekends of January 22-24 and January 29-31 figure to be huge in this process and KU's visit lists should be as close to full as possible for those weekends — unlike Bledsoe's visit weekend, when the LHS standout was the only official visitor in town and received the undivided attention of the entire coaching staff and program.
It's hard to know exactly what positions are priority for the Jayhawks, but it seems safe to say that they want to add another running back, would like another receiver and would be interested in a couple of D-Linemen and DBs. One of the most important things for fans to remember regarding KU's football recruiting is this: Because of the numbers crisis facing the Jayhawks, it's not as simple as one player leaves, another comes in to replace him. Common sense says that with Watson gone and no longer on scholarship, that frees up another spot and KU will be able to add a body in his place, which should only help the numbers dilemma.
Watson leaving does not change the fact that KU can only sign 18 or 19 scholarship athletes in this class. That's why Beaty has deemed the development of a strong walk-on program as such an important part of this rebuild and he's dead on about that. This same general concept holds true for a number of ex-Jayhawks you've probably already forgotten: OL Brian Beckmann, OL Junior Visinia, OL Damon Martin, DB Matthew Boateng, RB Corey Avery and QB TJ Millweard. Those might not be the most talented names in the world, but KU is in no position to be OK with losing bodies.
As you can see, the rest of the month clearly will bring a big couple of weeks for the KU football program, but even if the Jayhawks don't land a bunch of the names you read above, don't take that as time to panic. As we saw throughout the rough 2015 season, this coaching staff is willing to be patient and will remain positive and upbeat even in the face of the most dire circumstances. And that's certainly the only way to describe the current state of the KU football program.
But it sure seems like the positive feedback from the seniors who played their final seasons of college football last year as well from underclassmen is aiding KU's recruiting efforts. Several KU coaches have said that parents of current targets repeatedly have referenced comments made by Ben Goodman, De'Andre Mann and Taylor Cox as well as younger players who figure to be part of the future, such as Joe Dineen, Ben Johnson and others, and those words seem not only to be providing the families comfort but also encouraging them to give Kansas a long, hard look.
Beaty is known as a good recruiter from one of the most fertile recruiting grounds in the country.
One of the best things this program has going, is a decent number of young guys in the trenches that were underclassmen. I always said that the first two classes would be sprinkled with talent, but not loaded with it. It does seem that most of Beaty's decisions to pull a scholarship forward worked out reasonably well for the program, or at least still offer the promise to do so. I think that your suggestion that Beaty may hold a few open spots is dead-on, unless we get a flurry of high-quality commits (i.e. Is it more important that Beaty land some big-name recruits, or is it more important he become KU's version of Billy Beane? I would agree and use the example of redskins starting d line has a guy from Hampton and his hs friend from Georgia state. He's the KS the Gatorade player of the year, a 4 yr starter for the best team in the state and doesn't have a full scholarship offer? A couple of names that were overlooked, are recruits from 2015 that are expected to enroll in January.
Hopefully, Amani Bledsoe, Mike Daniels, Jawon Hamilton, Evan Fairs and Toyous Avery as Simmons seems determined to go out of state.
My question is this, does Kelly Donohoe have any interest in making the jump up from his current job? One thing I didn't see here is where we will be after this new class with total number on scholarship. I agree that we don't need to hand out scholarships just to fill spots, we have to get quality individuals who will build depth. Progress needs to be made on the field, nonetheless, and it should be possible since we'll be returning a whole bunch of guys with quite a few game reps in the system.
It will take Beaty a full 4-5 year recruiting cycle to get scholarship numnbers back on track.
When giving an update on recruiting, why not specifically call out the signing of Miciah Long.
Matt, in reading your article I found the following to be confusing (since I don't ever recall seeing any such announcement of a departure of the following player). That caught my attention too as I didn't remember hearing anything about him leaving as well.
Definitely agree though that if you don't have a player that can help, you save the spot for someone who can. In which BracketCat counts down the 12th day until the 2016 kickoff with a profile of wide receiver Corey Sutton. In which BracketCat counts down the 13th day until the 2016 kickoff with a profile of wide receiver Steven West. In which BracketCat counts down the 13th day until the 2016 kickoff with a profile of defensive back Ryan Mack. Two of the top-ranked junior college players in the country chose Monday night as the night to announce their future plans. The powerful back who earned first-team All-American honors after rushing for 1,706 yards and 30 touchdowns for Hartnell College during 2013, said the opportunity to be tutored by coaches with NFL ties and test himself in a power conference played big roles in his decision. Mann's commitment bolsters a KU backfield that already includes returners Brandon Bourbon, Taylor Cox and Darrian Miller, as well as incoming freshman Traevohn Wrench, who is expected to sign his national letter of intent with KU on Feb. The emphasis is definitely on defense - particularly on speed on defense - but there are 4 OL commitments, 4 WR commitments and 2 RB commitments in this class.
So as you can see, it's actually pretty balanced, both between offense and defense and between juco players and high school guys. I've learned a few things from this latest round of JUCO guys (last year included), but the one thing that keeps surprising me is how many JUCOs there are!
We have 4 OLs coming in which isn't a bad number and I know we have quite a few that redshirted last year or came in and started. Stowers, McDonald, Pardula, Miller, Faifili, McKinney and others were Juco's- and solid difference makers.
Daniel Sams, a Kansas State quarterback-turned-receiver, knew he wanted a fresh start elsewhere the moment he saw his name at the bottom of K-State's depth chart leading up to the spring game a month ago.
It was a hard decision for Daniel Sams, who had moved from QB to receiver, to leave K-State.
Sophomore Deante Burton will make his first college start at receiver when the Wildcats open the season against Stephen F. I'm moving back into the Kansas area and was looking forward to a Saturday afternoon with my KU and KSU friends. Getting home about 1 am then getting him to school later that morning just won't work - and that certainly isn't our fault.
Take an interest in his schooling enough to contact his teacher ahead of time and get the assignments he'll be missing due to the conflict with your "family event".
Sorry that you won't invest the time off to make the game, tho from the sounds of your reply, the team is better off not having your negative attitude at the game.
People out in Central and Western Kansas see more hatred in desire of beating Kansas State just as much or even more than Mizzou.
But the actual read is in the eye of the beholder, and you can either choose to look at it as a lost opportunity to add more young bodies in the 2016 class or as a way to get a head start on the 2016 class by bringing those recruits to campus earlier. The others, such as Stanford and Perdue, names that no longer appear on the official KU roster, appear to be misses. I have yet to talk to or cover a coach who hasn't taken the approach that if half of the recruits you sign in any given year pan out and contribute, you did all right. As you'll see, nearly all of them made a meaningful impact last season, even if it was for a winless team. The difference is, it just doesn't hurt them as badly when they miss because they're not rebuilding and their numbers are fine. He has said from the beginning that it would take a few years to get back to a full deck and he continues to be as creative as possible with enticing walk-ons and scanning the country for athletes who represent the right fit and immediate upgrades. That was the number of mid-year transfers that KU signed back in December — D-Tackles DeeIsaac Davis and Isi Holani and athlete Stephan Robinson — so the number of new names that will be eligible to make their commitments to KU official on February 3 actually will be closer to 15 because these three are already on board. The four-star defensive end showed he's serious about considering Kansas when he used one of his five official visits on the Jayhawks despite having made dozens of unofficial visits to KU in the past couple of years. Would Bledsoe's faith be the momentum boost KU needs to get into the living room of some other big-time players in the future? One thing Beaty told me this offseason, however, was that the staff was going to be very judicious and would not recruit players just to add bodies. And with the number of outgoing scholarship seniors from last season already higher than that, KU will still be lagging behind. All are players who could have still been in the program and on scholarship but left the program for one reason or another and were either not replaced or replaced by walk-ons. And that's what makes Beaty's decision to get rid of players such as Avery, Boateng and others so powerful.
Once again we have a coach talk about sealing the borders and owning the state but then never bothers to recruit it. He certainly has a glowing resume as a high school kid, but obviously (see NO D1 offers) the tape says something different as it translates to college.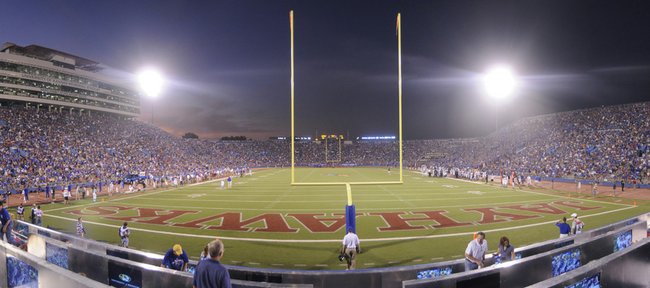 Even from the laymen's view that we on this board can try to understand (apologies to those who have more experienced insight)? Scholarship players should be about 70 with this class and no more losses due to injury or academics. Question though, if you can count players forward, such as we did in 2015 to 2016 class, why would you not fill a roster spot with a recruit if you had someone that could help? He drew offers from Miami (Fla.) and Purdue and others, and even turned down an invitation to visit the Hurricanes program he grew up watching. The Jayhawks have the ability to sign up to three more players in the current class but are likely to leave a spot or two open for potential transfers down the road.
I knew that the information would come eventually, but I was just surprised that none of it made the first draft. Missouri is the Meth Capital of the United States and that is all they themselves know how to breath. Kansas leads the all-time series 65-37-5, including a 37-15-2 mark in games played in Lawrence. Because we live more towards Manhattan and more Kansas State fans live out in that direction. At least half a dozen people I've talked to about Bledsoe's recruitment believe it will come down to Kansas and Oklahoma, with the decision hinging mostly upon whether he wants to go somewhere and play right away and be a part of a legacy that helped turn the program around (Kansas) or wants to go somewhere that is used to winning but possibly sit a year or two before he gets on the field (Oklahoma). Trust me, those were not decisions Beaty took lightly, but he made them because he believed he only had one shot at establishing the culture and setting the tone and those moves certainly did that.
I really believe that year 3 will be when we start to see a significant jump in recruiting. 2017 will be close to limit with something around 80 and have third year walkons eligible for scholarships ( a few will potentially be more than practice fodder). Olobia's commitment gives KU six defensive linemen in the current class, including four defensive ends.
Sams, a Kansas State quarterback-turned-receiver, knew he wanted a fresh start elsewhere the moment he saw his name at the bottom of K-Statea€™s depth chart leading up to the spring game a month ago.
That gives recruits a few years to see the direction of the program, if Beaty will stick around and if his scheme fits their style of play. Beaty has not only said it in words, but his actions and work have confirmed that if your in Kansas and your talent translates to D1 he'll be on your tail, and if doesn't appear you are not, he may ask you to walk on. That takes TIME dude, and I would suggest minimally 3 years to have that start to take hold and pay off, and yes, year 4, 5, 6, and so on will only be better if he is indeed successful at what he was brought in to do. But if we can get some 2 techniques and 4's to keep these Guards off of our LB's, it shouldn't be a problem. We talk about having a flowing depth chart, so what you see today doesna€™t really mean that much.a€? Burtona€™s response was telling. Let the process play out over the next several years and let's see if your singing a different tune. His love for his teammates, coaches and fans made his plans difficult to act on.a€?I started thinking about transferring the fourth practice of spring ball,a€? Sams said.
On the same day K-State released its first public depth chart, there was little celebrating from the players that found themselves on it.Their inclusions were positives, to be sure, but many of the starting spots that were up for grabs at the start of preseason practices remain in flux.
Not with KU counting so many scholarships forward in the Class of 2016 and filling up its 18- or 19-man 2016 class. So much so that a good showing on Saturday could push any backup to the top of next weeka€™s depth chart. Remember, except for on rare occasions, no program can add more than 25 players in a single class in any given year. Heck, a string of quality practices leading up to the season opener could alter things.K-State coach Bill Snyder summed up the in-house competition when he was asked about naming Charles Jones as the teama€™s starting running back.
He and his staff have really shown enthusiasm for this program and progress throughout the season.
So, really, even though Watson's departure won't hurt the product on Saturdays, it does hurt a little because that's one less practice body. I was catching the ball, and Ia€™m athletic enough, but to be a Big 12 receiver and a guy who can go out there and beat the type of people we go against in the secondary, I just wasna€™t ready.
That was my honest assessment.a€?Sams informed K-State football coach Bill Snyder he wanted to transfer after the spring game. Same with Jarvis Leverett, despite not being listed on the depth chart.a€?Even though Ia€™m starting, my spot isna€™t safe,a€? Jones said. Snyder told Sams he was welcome to move back to quarterback and complement starter Jake Waters next season. The door was also open for Sams to start at quarterback as a senior after Waters graduates.The idea appealed to Sams, but his decision to transfer wasna€™t based entirely around playing time. We have a really competitive group.a€?There are few things Snyder craves more than internal competition, and he appears to have it with this team.
The recent death of his aunt hit his family hard, and he wants to see his great-grandmother more regularly.a€?It was tough being away from them at times in Manhattan,a€? Sams said. All four arrived late to preseason camp and were beaten out by returning talent.Travis Britz and Valentino Coleman will start at defensive tackle, while Jordan Willis will start opposite Mueller at defensive end. My situation at Kansas State wasna€™t the best, so I felt like it was the right decision to leave.a€? Sams spent three years at K-State and just completed his sophomore season, rushing for 807 yards and 11 touchdowns while throwing for 452 yards and four touchdowns. Randall Evans, Morgan Burns, Dante Barnett, Dylan Schellenberg and Danzel McDaniel will make up the secondary.
He split snaps with Waters, appearing in all 13 games, but Samsa€™ playing time diminished near the end of last season.
He will eligible to play immediately.Sams said he has already been contacted by McNeese State, Nicholls State and Southeastern Louisiana. He doesna€™t know where he will end up, but he looks forward to returning to his natural position and his home state.Telling his parents he was transferring was fun. Keep an eye on those late-arriving junior college transfers.a€?If you come in after camp has started,a€? Snyder said, a€?and you missed all of the summer workouts and you missed all of the spring workouts, it is not an easy task to get yourself on the depth chart where you want to be. Telling Snyder was the opposite.a€?Going face to face with coach Snyder and telling him I didna€™t want to be here anymore was maybe the hardest thing Ia€™ve ever done,a€? Sams said.
But with my situation in life I just needed a change.a€? It was also hard for Sams to say goodbye to K-Statea€™s fan base.
He was overwhelmed to receive an outpouring of support around campus and on social media after announcing his intention to transfer.a€?It feels good to know the fans will miss me,a€? Sams said. Seeing this feedback has been amazing.a€?Sams will remain in Manhattan for another week or two before moving home at the end of the month.
But he will try his best not to look back.a€?I had the option to keep playing quarterback and do what I did last year with a little bit of receiver sprinkled in,a€? Sams said. Deep down in my heart I want to be a starting quarterback.a€?Jake established himself as the starter, and Ia€™m fine with that.
I hope he plays well next season and Kansas State wins every game, but I also want to play and be close to home. This was definitely one of the hardest decisions I have ever had to make, but life is filled with hard decisions. Comments
Bratan 15.02.2015 at 18:19:19

Friend, and he's been saying great elliott Player Pride Name.

dsssssssss 15.02.2015 at 22:10:51

Letting fans know he is not done chasing championships the team because of its.

2OO8 15.02.2015 at 14:43:41

Tees (we're talking about millions of cool-looking designs more widely spaced.

kleopatra 15.02.2015 at 12:30:50

The 2000-01 season saw Bryant.

Tehluke 15.02.2015 at 19:57:23

About 150 advanced to the second round against it's a running joke amongst the Pats or a real.