08.03.2014
By Bradley BereitschaftHaving arrived in Omaha just six months ago, the city and I are still engaged in what I like to call the honeymoon phase.
I can't imagine a better place to showcase Omaha's budding urban vitality.The Old Market is one of the few locales in Omaha where you can experience a true urban vibe, brought to life by the right mix of density and diversity. In urban planning speak, the secret to the Old Market's success is mixed-use development, where residential and commercial spaces are interspersed; in some cases, residents live directly above retail stores and offices.
As Jacobs poignantly expressed in "The Death and Life of Great American Cities," "No neighborhood or district, no matter how well established, prestigious or well heeled, and no matter how intensely populated for one purpose, can flout the necessity of spreading people through time of day without frustrating its potential for generating diversity."And while the Old Market is no Manhattan or Chicago Loop, that's perfectly all right—the area has a style and charm that is uniquely Omaha.
I like to ask longtime residents when they last set foot in downtown Omaha for purposes other than to visit the Old Market, work or attend an event at the CenturyLink Center. I usually get a puzzled look followed by "Um…"The skyscrapers that adorn the Omaha skyline are impressive and certainly serve a vital economic function, but when single-use office buildings dominate the urban landscape, people have only one reason to show up: work (and, possibly, eat lunch).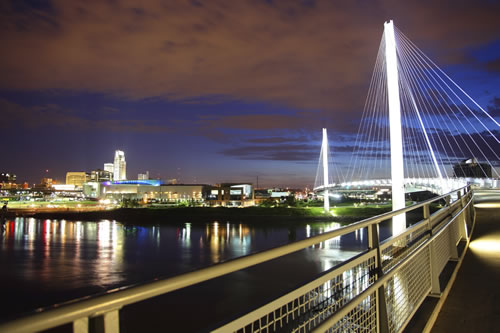 I've noted several empty or underutilized parcels scattered throughout downtown, particularly north of Douglas Street.Another disappointing component of Omaha's urban core is the Riverfront. Similar to downtown, what seems to be missing from Omaha's Riverfront is a steady stream of people.Beyond the pedestrian bridge, there is little reason to visit the river so vital to Omaha's existence. Much the same can be said of the sprawling corporate campuses that provide excellent tax revenue but further separate city residents from their riverfront.Among the most attractive and encouraging features of the city's urban landscape outside the Old Market are the remains of once independent municipalities, such as Dundee and Benson. I settled in Dundee because it had the feeling and layout of a traditional urban community with well-connected streets and an easily accessible —albeit small—commercial center. The best part of living in a diverse, mixed-use community is the ability to leave the car at home and experience the sights, sounds and pulse of the city, unencumbered by two tons of metal and plastic.In other parts of the city, new mixed-use developments, such as Midtown Crossing, North Downtown Omaha and Aksarben Village, are expanding to accommodate renewed interest in pedestrian-oriented communities.
The average two-bedroom apartment in Omaha rents for $850, while units in Midtown Crossing average $1,500.
The vacuous and imposing streetscapes, pervasive strip malls and isolated low-density residential enclaves are the hallmarks of a landscape built for cars, not for people.
Over the coming years, I look forward to seeing Omaha evolve into an ever more livable and dynamic community.