27.11.2014
Rock gardens expand a gardener's planting palette and offer creative challenges to gardening enthusiasts. Ed Glover, a member of the Wisconsin-Illinois chapter of the North American Rock Garden Society, has been rock gardening for more than 25 years. Kim Zoss, a horticulturist at the Chicago Botanic Garden, also encourages gardeners to start small. "Beginners might try cultivating a rock garden in a trough, in a nook, atop a small berm or around a water feature," Kim says. Burying portions of the rocks not only provides a natural overall appearance but also encourages plants to stretch their roots to the soil beneath the rocks, which results in healthier plants. Desert rock gardens supply a good foundation for penstemons, sedums, cacti, low-growing yarrow and hens-and-chicks. Perennials are the mainstay of rock gardens, but some gardeners incorporate heat-loving annuals, such as moss rose or creeping zinnia, into their design for season-long color. Rock gardening is becoming increasingly popular, and local nurseries are responding to the growing demand for rock-garden plants.
After the plants are in, mulch the entire garden with at least an inch of gravel that matches your rocks and stones. Gardening Basics to Keep Plants HealthyStack the odds in your favor by learning the gardening basics of these disease-resistant plants. Ideally suited to hot spots and difficult-to-tame slopes, they take their inspiration from wild flora that sprouts along gravelly mountain peaks and sandy desert floors. Building a rock garden allows gardeners to play with an array of small plant varieties that would likely be lost if planted in traditional perennial borders. He tends his own 120-by-15-foot rock garden at his home and acts as a volunteer rock-garden caretaker at the University of Wisconsin-Madison. Ed recommends planting alpine-type gardens on sunny, south-facing slopes; xeric-type rock gardens planted with drought-tolerant plants do well where conditions are hot and dry. Ed suggests spacing rocks to create crevices for tucking in cushion-forming plants or creeping cultivars that will wander over nearby stones.
But, since rock gardening focuses on individual plants, it's important to not crowd plants and to choose nonaggressive plants that won't overgrow their designated spots.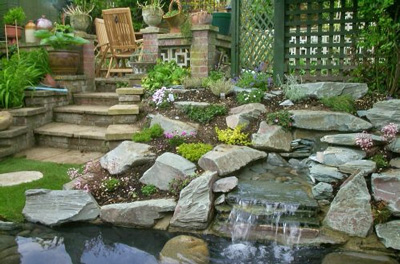 The Chicago Botanic Garden's rock garden combines alpine and xeric perennials, such as ice plant, small sedums, ground-cover potentilla, pulsatilla, moss phlox and dwarf iris with miniature evergreens, such as Teddy arborvitae.
Situate larger rocks so they create microclimates that offer shaded planting sites on one side and sunny spots on the other. Creeping phlox and rock cress will blossom next and are followed by summer-blooming dianthus and blue-flowering campanula.
Other good rock-garden options include Tom Thumb cotoneaster and blue rug juniper, Kim says.